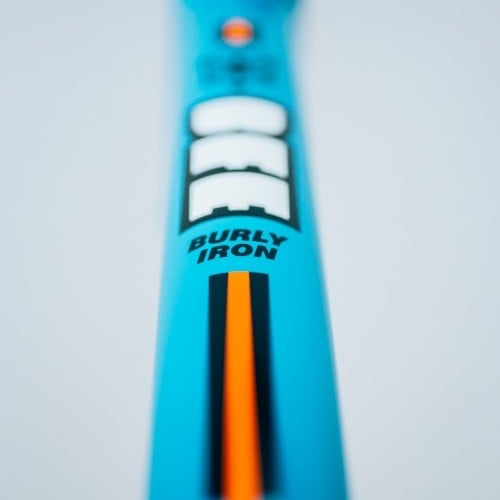 Longer, Lower, Slacker: Cotic BFe Gen 5
Fri 25th Aug, 2017 @ 9:30 am
Never let it be said that longer isn't better, though it's obviously what you do with it that counts. And what can you do with the latest BFe hardtail monster from Cotic? Turns out absolutely anything and everything, from dirt jump to big mountain days, BMX parks to enduro racing and anything in between. Hardest thing is going to be picking a colour…
BFe – Burly Iron
Right from its introduction in 2005, the BFe has always been the tearaway of the Cotic family. The Soul's stockier, rowdier younger brother. You know the one – loads of fun, but a bit on the wild side? That's the BFe.
"The Bfe is our trail bashing, downhill thrashing, jump park smashing, enduro winning, do-it-all fun machine."
Re-invented for its 5th generation, the latest BFe takes the biggest step forward in geometry and features since it was first launched. During our focus on the droplink full suspension bikes over the last couple of years, we got to wondering…..what would a hardtail with Rocket style geometry be like? The answer is here in the new BFe: It's longer, slacker, lower and more capable than ever. And fast. It's so, sooooooooooo fast!
The BFe has always been a diverse beast: Down size and mount up with a 120mm fork and it is suited to smash the dirt jumps, local BMX or 4X track, with the geometry of the bike making it easy to throw down style and tricks like there is no tomorrow.
With a 140mm fork and sized with room to move, the BFe turns into the dream trail bike which climbs nearly as fast as it descends whilst keeping a huge grin on your face!
When suited up with a 150mm-160mm fork the BFe will have no qualms about keeping up with your mates on their big fancy full-sus rigs at the enduros. The BFe can comfortably handle up those big forks so you can get hooning on near enough any downhill track you choose!
The frame is based around a Reynolds 853 down tube, which allows us to keep massive strength where is matters most, whilst keeping weight down. The rest of the frame is our own FM Heat Treated double butted cromoly steel, which help keep strength and value high throughout the rest of the frame. There are no corners cut: All the usual Cotic features of Ovalform top tube, oversized plug welded seat tube, wishbone stays, Syntace thru axle dropouts, stealth seatpost routing and taper steerer compatible head tube are all present and correct.
Throw in massive clearance for latest generation wide rubber – 27.5 x 2.6" or 26 x 3.0" tyres – and you'll be taking on all terrain in your stride, giving you the confidence to ride faster and be buzzing to do "just another run"!
Trail, enduro, 4X, downhill, bike parks : BFe will do it all.
Still want 26" wheels? You need the BFe26. Maybe you would prefer some 29er or 27.5 Plus wheels for your hardtail? Take a look at our smooth and supple SolarisMAX. Want to thrash your 27.5" wheels but add some suspension? You need the Rocket.
Demo a Cotic here: http://www.cotic.co.uk/demo
Get your Bfe here: http://www.cotic.co.uk/BFe
Featured in this Post
Comments