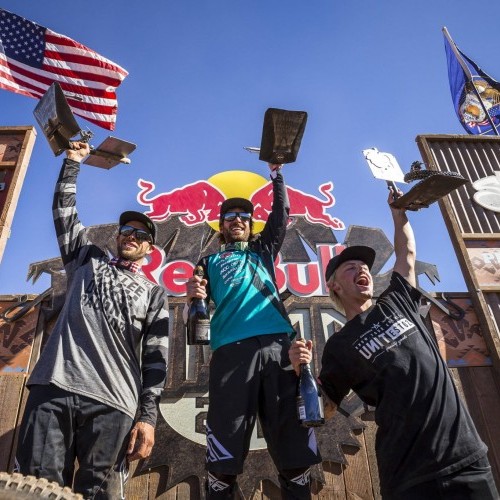 Kurt Sorge Wins Red Bull Rampage 2017
Sat 28th Oct, 2017 @ 12:30 pm
Win a GO3 Camera by Insta360 this issue in our FREE subscriber prize draw.
Well, how good was that? With ridiculous moves being thrown and a few gnarly spills to get the crowds going, the 12th edition of Red Bull Rampage ended with Kurt Sorge landing the most coveted mountain bike event in the world for a record third time.
Having already conquered the daring terrain at Zion National Park in Virgin, Utah, in 2012 and 2015 the Canadian sent down arguably his best ever ride at Red Bull Rampage to overcome Cameron Zink and rookie Ethan Nell.
Sorge said: "I am speechless. I can't believe it. It was a lot of work out here for a couple of weeks, and to make my diggers, everyone back home and the fans proud, is out of this world.
"All riders were going huge and doing technical tricks off all of the big features – putting together really technical flowy lines."
Sorge, Zink and Brandon Semenuk were all battling it out for the first ever Red Bull Rampage hat trick. At the end of the day, with a score of 92.66 in his first run, Sorge came out on top and not only became the 2017 champion but the first athlete to take home three golds – cementing him as the winningest athlete in history.
Building upon the success of last year's format changes, the elite group of 18 riders and their two-person build crews created their own manmade lines down the mountain without the use of power tools. As a result, no two riders' paths down the near-vertical sandstone ridges were the same.
Judged on four sets of criteria, including difficulty of line, air amplitude, control and fluidity, tricks and style, all athletes worked to impress the judges as they rode down the other-worldly terrain.
Rounding out the podium was freeride mountain bike icon Zink, coming in a close second, and rookie Nell, a twenty-year-old Utah local who was competing in the event for the first time, taking home third.
Semenuk, winner from Red Bull Rampage 2016, and Brett Rheeder both fell in their first run and then took on their second redemption run with confidence, putting together solid performances to claim fourth and fifth place, respectively.
The 'People's Choice Presented by Utah Sports Commission' was awarded to Frenchman Antoine Bizet with Pierre Edouard Ferry picking up the 'Kelly McGarry Spirit Award' which was chosen by the athletes.
RED BULL RAMPAGE 2017 TOP 5
1. Kurt Sorge (CAN) – 92.66
2. Cameron Zink (USA) – 90.33
3. Ethan Nell (USA) – 90.00
4. Brandon Semenuk (CAN) – 89.66
5. Brett Rheeder (CAN) – 89.33
Featured in this Post
Comments