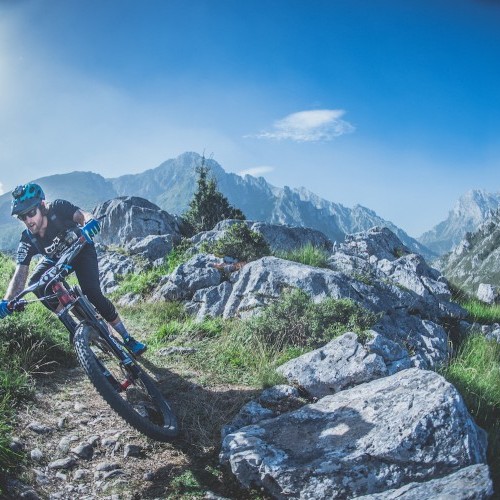 Asturias – Mountain bike in a Natural Paradise
Wed 15th Nov, 2017 @ 9:30 am
Win a Peaty's Complete Bicycle Cleaning Kit this issue in our FREE subscriber prize draw.
At this time of year in the Northern Hemisphere we could all use a little sunshine and dry trails, so head out with David Cachon as he discovers exquisite riding and the food that revolutionized cycling is in Asturias, a natural paradise located in the north of Spain, that hides the key to sports recovery – the cachopo.
I've been driving for several hours now, I've been appreciating how little by little the landscape was changing, becoming increasingly green, mountainous. I slightly lower the window of the car and a smell of fresh grass enters and floods my lungs, which I like.
Suddenly a huge meadow of intense green merges with a magnificent blue that comes from the sea water, the visual sensation is incredible, we just arrived in Asturias. In my mind only one thing, sink the tooth to a cachopo (it is a typical dish of Asturias, consists of two breaded beef fillets and including ham and cheese).
If you want to discover in detail all that Asturias has prepared to offer you enter the Tourism website. You can find a selection with the best MTB routes in the region, as well as tips for places you can not miss. Of course you will also find recommendations about accommodations and the different activities you can do.
#CreaTuPropioAtajo
#MakeYourOwnShortcut
http://www.davidcachon.com
http://www.twitter.com/davidcachon
http://www.instagram.com/david_cachon
http://www.facebook.com/davidcachon
Featured in this Post
Comments