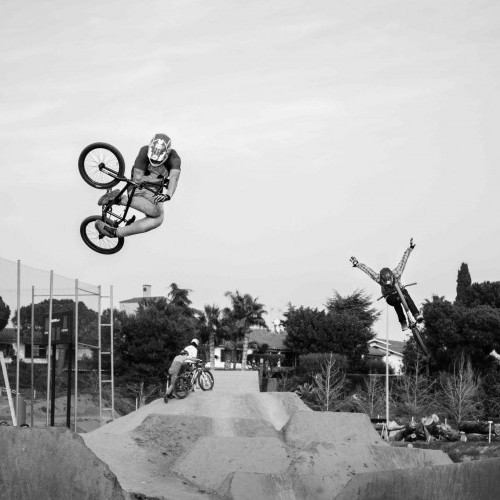 Polygon UR Development Team Announcement
Mon 25th Dec, 2017 @ 3:30 am
Win a GO3 Camera by Insta360 this issue in our FREE subscriber prize draw.
Polygon UR has been involved in international racing in Downhill, Freeride, Enduro and more for nearly a decade now. It has always been in the DNA of the team to help young talents but with the team growing the last few years and having a more and more elite organisation, it was hard to add more riders to the team. So to keep helping coming up talents we decided to officially start the Polygon UR development team to give a chance to more riders to reach their full potential.
We will support youth riders in downhill to help them get ready for the junior DH world cup circuit. On the slopestyle/dirt side, we want to help young riders with talent that don't have the support they should.
For the Downhill discipline, Simon Chapelet, a 15 years old youngster from France, will be joining us on all Crankworx, some IXS cups and French cups. Simon has been riding BMX race since his early age and has shown a lot of speed and talent on a downhill bike.
For the Freestyle category, we keep Loic Esteve in our program but we will be adding two new high-skilled BMX riders, the Bringer brothers. Maxime and Timothé are in the BMX freestyle french national team. They will be coming to events like Crankworx to compete in Speed & Style, Pumptrack and compete in some FMB world tour events.
We are starting this development team small but we really hope to get it growing in the futur years as we take for model other sports that have their own youth or development team and we believe that to keep our sport growing it is the way to go.
On top of the result side, we also want to share our dream-ride-share spirit with these young riders. For us it isn't about winning at all cost but more about giving your best, following your passion, being professional, being accessible, having a positive impact in our community and off course to have loads of fun.
Featured in this Post
Comments