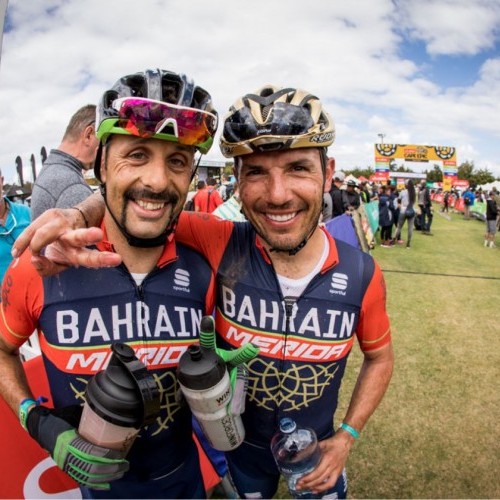 MTB Legend José Antonio Hermida & Joaquim Rodríguez Return for 2018 ABSA Cape Epic
Sat 20th Jan, 2018 @ 12:30 am
MTB Legend José Antonio Hermida & Joaquim Rodríguez Return for 2018 ABSA Cape Epic
After embarking on the Cape Epic adventure for their first time in 2017, former Mountain Bike World Champion José Antonio Hermida and retired road racing super star Joaquim 'Purito' Rodríguez will put on their 'MERIDA FACTORY RACING' kit once again and head to the start line of the 2018 ABSA Cape Epic.
Both riders, while in official 'retirement', are spending lots of time either as a MERIDA brand ambassador and product tester or as an advisor to the BAHRAIN MERIDA Pro Cycling Team. Naturally racing has taken a slight step back, but when the chance arose to return to the Cape it did not take long for the team to start planning their next stab at this amazing event.
Their 2017 campaign was an impressive launch year for the team. Despite José and Joaquim being close friends and regular training buddies it took them a long time to enter their first 'pairs' event together and their 2017 attempt at one of the biggest and most competitive events in the world was impressive, to say the least. After a few perfectly ridden stages where they managed to get into the top ten, the team finished the 2017 event in an astonishing 18th position over all. This is hugely impressive in particular as Joaquim 'Purito' Rodríguez only started mountain biking a couple of months prior to the 2017 event and as the start list of the 2017 Cape Epic was once again a 'who is who' of the international UCI World Cup scene.
But last year was last year…
For the 2018 event José and Purito are well prepared (considering their 'pensioner' status) and are keen to mix it up in the Elite category once again.
Following the same principles as in 2017, the team will be wearing a unique design of the BAHRAIN MERIDA Pro Cycling Team jersey and will be equipped with one of the most capable stage racing bikes of today. Both riders will tackle the event aboard the superlight and hugely reliable full carbon NINETY-SIX TEAM. The lightning fast full suspension bike will offer the perfect combination of agility, comfort and traction and will be specced with the latest equipment.
When asked what their ambitions for the 2018 ABSA Cape Epic are José replied: "This year we are super positive and feel well prepared. Especially Purito has gained lots of MTB experience since the 2017 event and we had many opportunities to ride and train together. Of course, we both attend lots of non-racing events (Purito even more than me) for our 'day jobs' but we still managed to improve our skills and fitness levels and can't wait to put that into practice. Besides that, we always have fun riding and training together and we understand each other perfectly. It helps a lot to share a love for competition and being really close friends on and off the bike."
Preparations are in full flow for both riders and José has confirmed that his new 'pensioner' existence has not slowed him down. Due to coming into this event as a more rounded, experienced and perhaps better prepared team, José and Purito's aspirations are high. José comments, "we are taking part in the Elite category, so our 'target' will be to stay with the top riders. 2017 was an amazing Cape Epic for us but due to being 'one year wiser' we should be fighting for top ten positions and we have clear intentions to reduce the time gaps to the podium even further. Our tactics will be as always 'Full gasssss'."
Following last year's schedule, the team will be looking at a few selective events in preparation for the Cape. The main pre-event for José Antonio Hermida will be the Andalucía Bike Race, which the team participated in in 2017 before the head to South Africa.
Once again the team will be creating daily race diary videos and race reports, which will be shared via the MERIDA social media channels as well as on http://www.merida-bikes.com.
Featured in this Post
Comments