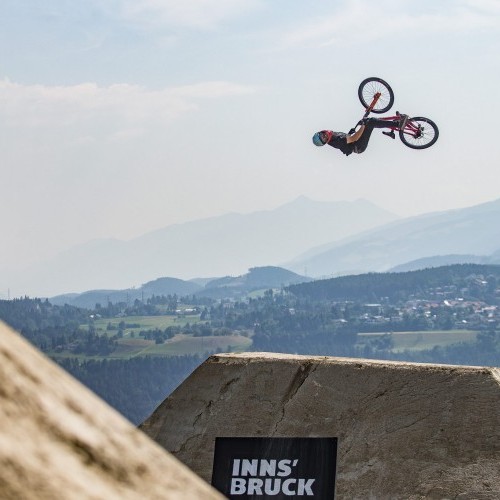 Stage Set for Return to Famed Slopestyle Course at Crankworx Innsbruck
Fri 15th Jun, 2018 @ 9:30 am
Flashback to June of 2017. A near-perfect first run saw Rheeder flow through the gargantuan features at the base of Bikepark Innsbruck, landing him in the hot seat with a 94.33, but only for a hot minute. Feeling the heat, Nicholi Rogatkin went all-in for his second run, throwing down a cashroll tail-whip, never before seen in competition. He squeaked into the lead. The seemingly impossible ahead of him, Rheeder dropped in. Minutes later, it was all over. He achieved his objective, improving on his score. But not by enough. His final 95.66 fell short of Rogatkin's 96, and the American triumphed. It was a showdown for the mountain bike history books.
How do you follow up one of the best Slopestyle contests, ever? You bring the course back, and let the professionals take care of the rest.
"I've been practicing and getting ready for this, pretty much since last year in Innsbruck," says five-time Crankworx Slopestyle winner Rheeder, the most successful athlete currently competing on the circuit. "I had some tricks I wanted to do but I wasn't ready yet. I think I'm ready now. Crankworx Innsbruck might be the first time."
Fans eager to see what Rheeder is bringing to the table can tune in to the Crankworx Innsbruck Slopestyle presented by Kenda, the first of two back-to-back weekend Crankworx Slopestyle contests, LIVE on Red Bull TV and Crankworx.com this Saturday, June 16. Full webcast schedule details here >>> https://goo.gl/EXAXTY
While Rheeder's riding a high after coming out of Rotorua with a win in the first Crankworx FMBA Slopestyle World Championship contest of the year, he's kept a relatively low profile since, working on his backyard course in B.C. and getting things dialed behind the scenes.
"I'm so ready to push my riding and the sport to the next level," he said upon arrival in Innsbruck. "And it's not just new tricks…My goal is always to link together my best tricks back-to-back-to-back which, to me, is the most impressive thing to watch another rider do. So that's my goal."
Others, meanwhile, have been pounding the pavement on the international circuit.
Rogatkin, who finished fifth in Rotorua, got back into his winning flow in May, taking the top step at FISE Montpellier. Next to him, the rest of the event's podium closely mirrored Rotorua's. Diego Caverzasi, who earned his first Crankworx Slopestyle podium in New Zealand, matched his performance, coming in third in Montpellier. Tomas Lemoine, who landed just off the podium in Rotorua in fourth place, moved up to second in the Gold level contest. Like Rheeder, Slopestyle veteran Thomas Genon, whose Rotorua run earned him second place, didn't compete in the French event.
Heading into Innsbruck, it's all hands on deck, with the discipline's elite coming together to compete at the highest level of Slopestyle competition.
The full list of invited riders for the Crankworx Innsbruck Slopestyle presented by Kenda includes:
Alex Alanko (SWE)
Anthony Messere (CAN)
Brett Rheeder (CAN)
Diego Caverzasi (ITA)
Erik Fedko (GER)
Jakub Vencl (CZE)
Lukas Knopf (GER)
Matt Jones (GBR)
Nicholi Rogatkin (USA)
Ryan Nyquist (USA)
Simon Pages (FRA)
Szymon Godziek (POL)
Thomas Genon (BEL)
Tomas Lemoine (FRA)
The course that awaits the world's current top 14 Slopestyle riders is ready.
Head builder Tom Hey with Elevate Trail Building has been on site for the past two weeks with his crew, getting all eight features reshaped and buffed to perfection after the wear of winter.
"We kept it exactly the same because it worked so well last year and it's only the second year," says Hey. "Last year was so good. Hopefully this year will be ever better."
Will 2018 see a rerun of the Rheeder/Rogatkin show? Riding the wave of solid results he's brought in so far in 2018, will Lemoine push for podium once again in Innsbruck? As he did in Rotorua, will Genon show he's still got what it takes? Or will Caverzasi, the star on the rise, unzip his bag of tricks and dig deep when it matters most?
The riders, the course, the pressure of training, the secrecy of preparation, the anticipation of go time – it's all about to come together in the Austrian Alps as the Crankworx Innsbruck Slopestyle presented by Kenda goes LIVE to the world on Red Bull TV and crankworx.com, Saturday, June 16. Tune in to watch best in the world battle to be named the Crankworx FMBA Slopestyle World Champion.
Keep up to date on all the latest from the FMB World Ranking and Crankworx FMBA Slopestyle World Championship Standings: fmbworldtour.com
For news and highlights from the Crankworx FMBA Slopestyle World Championship: crankworx.com
Featured in this Post
Comments