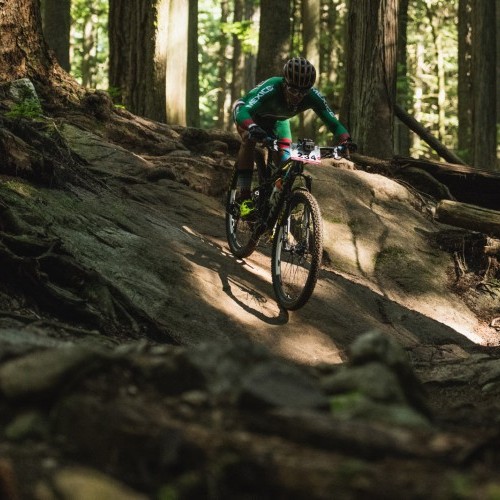 BC Bike Race 2018: Day 6 – North Vancouver
Sat 14th Jul, 2018 @ 3:30 pm
How did the riders fare on the gnarly North Shore? Thursday was the 6th day of consecutive racing for the BC Bike Race. Although only a short stage with just 18km of riding, the trails of North Vancouver are by no means for the faint hearted.
Stage 6 Presented by Shimano: North Vancouver
Distance: 19km
Climbing: 962m
Featured Trail: John Deere
NORTH VANCOUVER, BRITISH COLUMBIA July 12, 2018 – A male rider racing in the top 30 and flying a foreign flag stops midway down Dale's to adjust his seat height with an allan key. Wrong! You're obviously not from around here boy. It's day 6. Welcome to the North Shore. Time to bust out the baggy shorts and activate the dropper post. During the mostly road ascent to the top of the first descent, any delusions about this 18km stage being a smooth and easy day were shattered the second rubber touched dirt and granite on Corkscrew. Minutes later, Pingu closed the deal.
Sunlight filtered through the rainforest; a thread of North Shore gnar weaved among the coastal giants. Morning dew left a glaze of grease on the rocks and boulders. The dirt was as tacky as 60 grit sandpaper. Conditions – perfect. That is, for those who cut their teeth on steep, rooty, singletrack. For those who have only heard tales of the North Shore, it might be the ultimate singletrack test. They say mountain biking was born in Marin County; that may be so, but it came of age on the North Shore. Ya, I know, it's been said before. Who cares? It's true.
Todays stage included a timed section, RedBull Downtime – a chance for all the participants to show their DH skills against the clock. Forever After is a classic Mt. Seymour favorite that allow riders to pump and flow at speed, not without some pedaling it represents a true taste of North Shore gnar.
"This is our first time mountain biking in Canada, and our first time really riding slippery roots," said the Spaniard Soraya Senao, who's been in the mix all week in the open women's team category with partner Beatriz Gallego. "We're so excited to be in an event with Katarina Nash. She's our idol."
BCBR participants were about to sink their tires into some of the legendary trails that have helped define what's possible on a mountain bike. Add a little race speed into the mix and things got exiting real fast.
After pedaling out from the start line at Parkgate Park, top riders quickly dispensed with the climb and were dropping into the rock drops, woodwork and rocky chunder of Corkscrew. By the time the leaders were navigating the playful rock minefield on Lower Dale's, Yeti's Geoff Kabush, no stranger to North Shore gnar, had already built up a monster gap ahead of Jeremiah Bishop, who had never before ridden the Shore but clearly relished the sustained ascent that started the race.
"Racing a trail like that blind you have to make a lot of quick decisions," Bishop said. "I kept expecting Francois Bailly-Maitre to launch over me."
He has the scars to show it. Yesterday he crashed and skinned his left elbow trying to keep pace with the French enduro ace on the Hwy 102 stage-ending descent. Even old dogs can learn new tricks on the trail. Last year Bishop competed in five stage races and dozens of other cycling competitions. He's always on the hunt for a podium position, but says the BCBR helps bring mountain biking back to its roots, where pros and joes can share a beer and some laughs after the race.
"It feels great to connect with the tribe again," said Bishop, who ended the day in 6th, with Kabush once again claiming first in an excruciating time of 1:06:53, followed by Bailly-Maitre and Squamish local Quinn Moberg – his first podium finish so far in BCBR.

Female Dutch Rocky Mountain rider Hielke Elferink is back this year after claiming third place in the 2017 BCBR. "I'm not racing as hard as I did last year but I love these technical trails. When you drop in with a high heart rate, little mistakes can become big mistakes," Elferink said.
Kaysee Armstrong knows all about it. She crashed today when her front wheel pogo'ed a sharp rock and sent her bike sideways. She dusted herself off and managed to ride once again to a second place finish, six minutes behind Nash, who was top 20 overall. The Czech-American athlete can shred it all – uphill hammerfests or steep downhill tech.
Athletes talk about the flow state, when the link between thought and action is seamless. Six days into a seven-day mountain bike stage race, racers arrive at that mental place where the day is broken down into digestible chunks, the next tight corner, threading the needle between two rocks, a manual or a roll over, the top of the next climb. They find that groove, slipping into a common pace with fellow racers. One rider might have a better engine for climbing, the other swifter on the technical descents. It nets out at zero and strangers become friends on the trail. Elferink locked in with a rider from Colorado. "It's like ripping amazing trail with your buddies," Elferink said.
After six days of racing, the characters start to stand out. The hockey jersey wearing Hanson Brothers, the guy flying a tiny Chilean flag from his helmet, the Mexican with music – people deep in the pack but on the verge of elation, knowing that the final day – the Squamish stage – will soon be all that's left. But John Deer awaits. Brazilian Paulo Brandao does a Hail Mary at the entrance to this trail. He's still processing the experience of Corkscrew, Pingu and Dale's. No worries – it's North Shore new school flow. There's purple-haired North Shore shredder and trail builder Penny Deck, riding in her second BCBR. She's stoked to see cyclists from around the world ascending Good Sir Martin and descending the feature trail, John Deer, both trails she built and maintains.
Then there's Antonio Espinosa – #61. Born in Guadalajara, and now working for a private equity firm in San Diego, he pulled out of BCBR 2016 after he fell and dislocated his shoulder. Unfinished business drove him to come back and complete what he started. He trained hard, weathered some personal setbacks and came back this year, with one goal – to finish all seven days.
Along the way he decided to start picking up discarded wrappers and other racer trash left on the course. "If I'm picking up trash along the way it means I'm one of the slowest. Even though these aren't my trails I feel a need to look after them," Espinosa said.
BCBR – it's a race. But victories can be measured in different ways.
Tomorrow it's the final day – Squamish. Day 7 – the forecast is for hot weather, and 58 km of tasty Squamish trail to wrap up a week of epic BC singletrack.
Featured in this Post
Comments