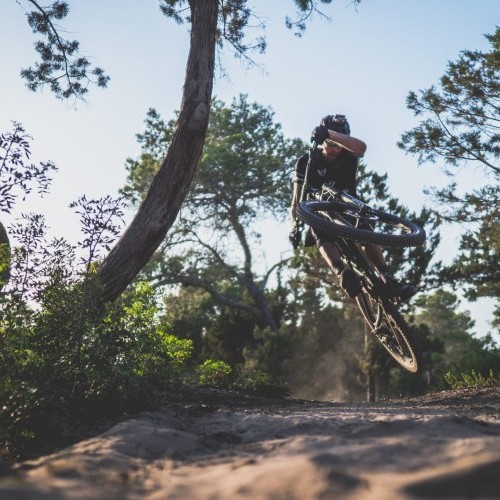 Formentera – All Day – All Night
Tue 31st Jul, 2018 @ 9:30 pm
What an awesome riding destination to add to your wish list! If you want to party, head to Ibiza. If you want to shred some insane, dusty trails, head to its neighbouring island, Formentera! David Cachon certainly does justice to the incredible riding potential of this island.
Win a Peaty's Complete Bicycle Cleaning Kit this issue in our FREE subscriber prize draw.
All Day – All Night
This incredible island hides something special, it is not yet known what that is, it could be some strange magnetism that makes night and day melt together. In an almost mystical way our riding session was influenced by the power of the island of Formentera and there came a time when it was impossible to differentiate the day from the night.
A charming place
Formentera was the cradle of the hippie movement, starting in the 60s, the island began to receive tourists who were looking for calm, coinciding with the beginning of the hippy movement. The island became a refuge for wealthy Americans who were hiding from the Vietnam War. His philosophy "Make love, not war" crossed barriers and attracted artists as renowned as Bob Dylan or Pink Floyd, who felt inspired by the island.
The whole island by bike!
You can ride with your bike throughout Formentera without having to tread a single road. Or the opposite if you are a fan of fine wheels. The best sites are connected by trails and cycle tracks. Peace, the easy and the creative are everywhere. The island is only 19 kilometers in length, so you can explore each cliff, cave or corner in a very relaxed way. You can consult pages like Wikiloc where you will find the tracks that best suit your level and the distance you want to travel. The island is quite flat so you should not worry about the unevenness.
All day and all night
Formentera is a quiet place where you can enjoy life, the sun, the sea, the cuisine and also its people. The months of greatest activity are those in the summer. In that season the island is quite active and the rhythm changes slightly. The activity becomes somewhat more hectic and you can enjoy both day and night. In our case we decided to create something that would show the island in all its magnitude, even when the sun was saying goodbye to us.
Thanks to Led Lenser (probably the best bulbs for riding a bicycle) and Cromalite (lighting for photography and video) we managed to show the differences of the same spot riding by day or night. No doubt a special and very magical project for us that was intensified by having the opportunity to do it in a place as incredible as the island of Formentera.
Featured in this Post
Comments