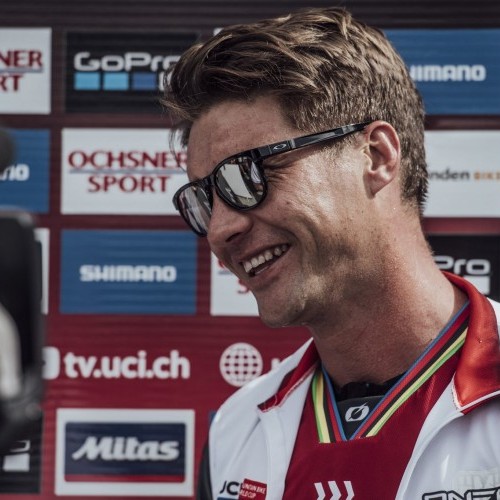 Greg Minnaar Heads to Red Bull Hardline
Wed 1st Aug, 2018 @ 11:00 pm
Greg Minnaar, the most successful downhill mountain biker the sport has ever seen, will be joining Rob Warner in the commentary box at this year's Red Bull Hardline.
The South African's illustrious career has spanned over 21 years and has seen him dominate the sport. With three World Championship titles, a record-breaking 19 World Cup titles and 71 podiums to his name, Minnaar is a force to be reckoned with.
Minnaar will be swapping the bike for the microphone in Wales as he joins presenter Rob Warner to commentate on the toughest downhill mountain bike race in the world. Minnaar will be on hand to provide his expert opinions and insights whilst the riders tackle the brutal course built by Dan Atherton.
Minnaar said "I love coming back to the UK where my career as a professional rider all started. Red Bull Hardline is one of those events I've always wanted to be a part of, it's tough, gnarly and generally looks like a good time. When the opportunity arose for me to join a long-time friend in the commentary booth, there really wasn't much hesitation. I can now experience this incredible event first hand, feel the pressure of being in the commentary booth and hanging out with all my old friends. Sounds like a pretty awesome weekend!"
Hard by name, hard by nature, Red Bull Hardline isn't an event for the fainthearted. Hailed as one of the toughest downhill mountain bike races in the world, the 2018 edition of Red Bull Hardline returns to the hills of Dyfi Valley in the north of Wales on September 15th, 2018. The intense course, built by Dan Atherton, combines tricky technical downhill features with huge freeride-style jumps.
For more information, visit redbull.com/hardline. Spectating tickets have now sold out, viewers can watch the action on RedBull.TV
Join the conversation @RedBullUK with the hashtag #RedBullHardline
Featured in this Post
Comments