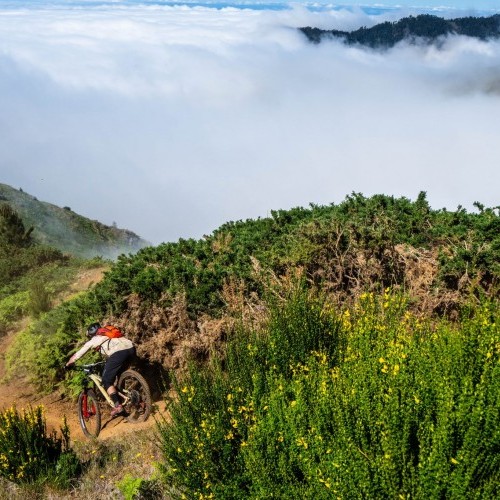 Trans Madeira 2019
Fri 31st Aug, 2018 @ 12:30 am
Win a GO3 Camera by Insta360 this issue in our FREE subscriber prize draw.
After a successful first edition this year, Trans Madeira announces dates for its second edition from 4th to 8th June 2019. Freeride Madeira and Clube Caniço Riders, also organizers of Enduro World Series Madeira, keep pushing Madeira as one of the places you want to ride your bike next summer, or maybe all year round!
"Trans Madeira was an absolute blast! It was a beautiful experience to live and an amazing way to discover this wonderful island. We are all leaving with a bunch of rad memories and with a big smile on our faces!"

– Yoann Barelli
The first edition, that also took place in June, was a leap of faith that turned out perfectly, with 120 riders from 26 nationalities joining us for five epic days of racing in the beautiful Portuguese island, Madeira. Balancing racing with adventure is the challenge ahead, covering all the four corners of the island, all known for being unique and different in terms of landscape, terrain, weather and culture. For 2019, there are plans for small route changes but keeping the same feeling of traversing the island over five days as the feedback we got from past racers was super positive.
Over 210km of riding
5 days of racing
Over 25 special stages distributed along the island – limited to 120 racers
Average of 2300 meters descent per day
Average of 1300 meters ascent per day
Trans Madeira organizers are now working closely with city councils, local government and private landowners as this event came to proof once more the importance of mountain biking on the island. The mission is to develop new trails and creating a solid plan to maintain those epic special stages that no one seems to forget! Along the year we work hard in presenting proofs to our local entities about how special the island is for mountain biking and our team is on the terrain making sure trails are clean, safe and ready for 365 days of riding.
Racing this event means you're directly contributing to our trail network. Barelli's "the best trail ever", Bryceland's "top three days of my life on a bicycle" and watching hundreds of smiling faces at the end of each race day means that we're on the right path. Adding to all of this, Enduro World Series will make its return between 11th and 12th May 2019, putting Madeira in the history books again.
"The race was really well organized and I really like the fact it's a real crossing of the island! In between exotic lush forest, black sand beaches, vertical peaks and humid temperature the terrain is absolutely amazing to ride."

– Jerome Clementz
What is Trans Madeira all about?
Trans Madeira is a multi-day multi-stage enduro mountain bike adventure that will get the best out of you, scheduled from 4th to 8th of June 2019. Five days of racing, more than 200km covered, more than 25 special stages, limited to 120 riders. The event is powered by Freeride Madeira, a pioneer bike holiday's company that has been working in all aspects of promoting the bike scene on the island for the past ten years. East to west, north to south, all four corners of Madeira in one unique event. You can expect to ride different kinds of terrains and explore unique singletracks in a bike camp adventure style race with no transition times but with cut-off times.
"Crazy days in Madeira! Starting way at the top in the mountains and finishing in the beach with beer! Rad trails, epic transitions and tired bodies but all worth it for one of the best days out on the bike!"

– Steve Peat
From tropical rain forests to open dry fields, this race is special in that way as riders will have to adapt quickly to each new single day. From the terrain, to steepness, to the technical aspects, these five days will crown an all-around enduro racer – that can also race 'blind'!
Registrations
Registration opens on the 1st of December 2018 (GMT 10:00h) and closes when there are no more spots available or on the 31st December 2018. There's no specific selection process, so the criteria is just be fast and secure a spot! The registration process will be open via http://www.trans-madeira.com.
Featured in this Post
Comments