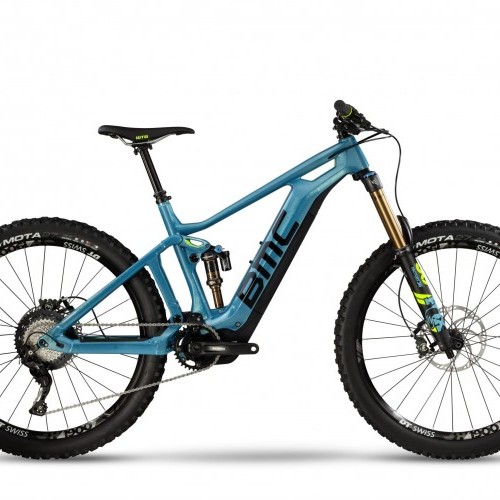 BMC Switzerland Introduces Trailfox AMP SX for AMPlified Enduro Riding
Tue 23rd Oct, 2018 @ 12:30 am
The new Trailfox AMP SX is the perfect blend of capability and premium all-mountain e-MTB performance. The progressive geometry and suspension kinematics developed specifically for the unique demands of aggressive e-MTB riding allow for maximum traction and control. The Trailfox AMP SX is for riders who love to push the boundaries of their riding, whether via chairlift at a bike park or a local e-MTB Enduro race.
The Trailfox AMP SX's APS suspension, the frame design, and Shimanos e-8000 drive unit have been specifically developed to maximize its all-mountain performance. To achieve optimum descending capability, the Trailfox AMP SX features a slack head angle, four-piston brakes, and aggressive downhill-style tires.
Antoine Lyard, BMC MTB Product Manager, explains who the Trailfox AMP SX has been designed for, "We were thinking of the Enduro rider who wants to spend as much time as possible on the trail. This rider won't be stopped by incredibly rugged terrain. Thanks to the Shimano E-8000 drive unit, Trailfox SX riders will ride further, to trailheads that were hardly reachable before."
An all-mountain weapon for the roughest terrain
BMC product managers have selected components for the Trailfox AMP SX which meet the demands of gravity-fueled enthusiasts. It features the premium 170mm-travel Fox 36 e-MTB fork and four-piston brakes with 200mm rotors allowing riders to attack technical terrain with confidence. The 35mm-clamp size Renthal Fatbar cockpit delivers precise handling and complete front-end control. To support aggressive riding styles, the Trailfox AMP SX features 2-ply downhill tires for improved durability and ultimate traction.
Tailored e-MTB Geometry and APS Suspension
BMC engineers have tailored Advanced Pivot System (APS) suspension and applied it to the Trailfox AMP SX. The recalculation of APS' kinematics, pivot placement, and leverage ratios, together with an e-specific shock tune gives the Trailfox AMP SX a true Enduro attitude.
The Trailfox AMP SX's slack head angle is combined with a long front center to provide stability, while its bottom bracket is slightly higher to avoid pedal strikes on technical uphills. Chainstay length has been kept to a minimum to re-iterate its nimble, responsive handling. Additional loads generated by it being an e-MTB, have been addressed with upsized bearings and links, while a one-piece rear triangle ensures torsional stiffness targets could also be met.
Twin Hollow-core Technology
The Trailfox AMP SX boasts what BMC calls "Twin Hollow-core Technology." Developed at the BMC Impec Lab, this carbon technology is BMC's solution to the challenge of creating tube shapes big enough to accommodate a battery, yet stiff enough to qualify as the front triangle of an e-MTB.
Maximized Integration
When it comes to integration, no stone was left unturned by BMC, the proof being the number of customized technical solutions integrated into Trailfox AMP SX. The customized drive unit cover protects, yet at the same time smoothens the frame surface. Chainstay protectors provide frame protection and keep noise to a minimum when riding rocky trails. The battery cover mirrors the frame shape, while integrated speed sensors in the rear triangle make wheel changes quick and easy.
Featured in this Post
Comments