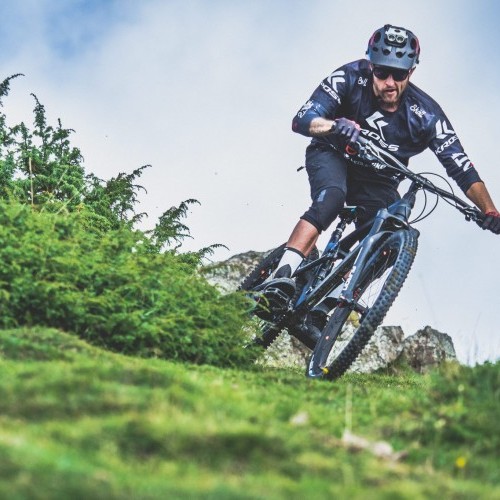 David Cachon: Mountain Bike in Catalonian Pyrenees
Tue 23rd Oct, 2018 @ 12:30 pm
Win a GO3 Camera by Insta360 this issue in our FREE subscriber prize draw.
Stick this on the big screen, dial it up to LOUD and enjoy the ride. David Cachon is back with yet more mind blowing technical, fun riding in some of the world's most beautiful places. Here's the man himself to tell you all about this latest adventure into the unknown trails of the Pyrenees…
We have entered into an adventure that will take us to the doors of the Pyrenees, specifically we will stay at the feet, trying to discover the most accessible and spectacular areas of the Catalonian Pre-Pyrenees and Pyrenees. Areas of great scenic richness, with very acceptable slopes and where we will find routes and paths adapted to all levels and publics. We were lucky to have the help of two exceptional guides such as Silvia Rovira (former professional mountain biker) and Jaume Vila (expert mountain guide).
Catalonian Pyrenees: Solsonés – Berguedá – Ripollés
Text: David Cachón
Photos: Fernando Marmolejo
The Solsonès is a region of the Pre-Pyrenees, in which the fields of cultivation are combined with the great extensions of forests and the high mountain spaces with a great contrast of landscapes.
– The Solsonès MTB Center – Vall de Lord
The BTT Center offers the possibility of traveling 9 guided tours through La Vall de Lord, with a total of 148 km marked, with different degrees of difficulty. The meeting point is located in the Tourist Office of La Vall, in Sant Llorenç de Morunys and offers a rental service for bicycles, helmets and changing rooms, mountain biking and a small repair shop.
More information: http://www.centrebttsolsones-valldelord.com
The Berguedà is a space where any time of the year is good to visit and perform activities.
– The Berguedà MTB Center
The forests that extend along the slopes of the Pre-Pyrenean southern buttresses are some of the most emblematic landscapes of the BTT El Berguedà Center, which offers nine routes and 190 kilometers to discover the mountainous landscapes of this region located between the Pre-Pyrenees and the Central Depression. that the Llobregat River crosses from north to south.
More information: http://www.elbergueda.cat
El Ripollès is a Catalonian region located in the province of Girona, in the valleys of Ripoll, Ribas and Camprodon.
– The Ripollés MTB Center
The Ripollés region is a refuge for nature lovers. The twenty-one routes that the Ripollès BTT Center places at the disposal of the amateurs offer 478 marked kilometers to discover the privileged mountainous territory of the Ripollès, a good part of which is protected by the Plan of Spaces of Natural Interest of the Generalitat de Catalunya.
More information: http://www.elripolles.com
You can find more information about routes, guided excursions, rental of material, gastronomy and accommodation on these websites:
http://www.centrebttsolsones-valldelord.com
http://www.rutessilviarovira.es
Featured in this Post
Comments