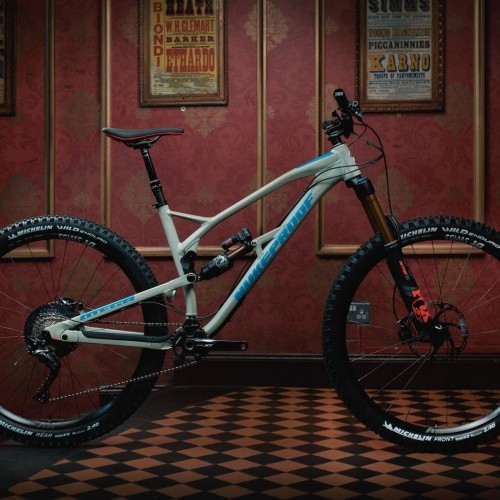 Nukeproof 2019 Bikes
Sat 20th Oct, 2018 @ 12:30 am
Roll up your sleeves, put down your work and pick up a hot brew, it's time to get your face into the awesome-looking 2019 range from Nukeproof. Credit cards and mops at the ready, it's going to get messy…
2018 saw the launch of the new Mega 275c: The bike that, along with riders Sam Hill and Elliott Heap, just wrapped up a its third World Enduro title (2 for Sam Hill, 1 for Elliott Heap). For 2019 the Nukeproof Mega range gets even better: with some subtle refinements, upgraded specification and the introduction of a new model. We have also been working to improve our already awesome "hardcore hardtail" Scout, with the best line up to date and we have created something a little different with the Digger gravel/adventure/hack bike. We are proud of our Belfast home and with much of the colour schemes in the range inspired by early 90's rock and punk posters, we headed to one of the most iconic venues in the city to shoot the new range: The Empire Music Hall.
2019 Nukeproof Mega 275c & 275:
The Mega 275c was launched late last year, so the new 2019 models simply offer subtle refinement to the frame and finishing kit. It retains its EWS winning gravity focused geometry, but gets the addition of the latest offerings from Rockshox, Sram, Fox and Shimano. This combined with the fact that all the 2019 Mega models use the brand new Michelin Wild Enduro tyres and latest Nukeproof components: Wide bars, short stems, Horizon SL saddles and Sam Hill Signiture Grips; adding up to a race ready package, straight out of the box!
New for 2019, the Mega 275 Carbon Pro brings carbon to our core of the range: giving riders the choice of 3 different specification options of Carbon (RS, Factory & PRO). We wanted to create a bike that was uncompromised, featuring products that would stand the test of time. Suspension is taken care of by the very latest Rockshox Lyric RC fork and Super Deluxe RC3 rear shock. With updated contact points, a Sram GX Eagle drivechain, Michelin Wild Enduro Tyres and brand new Mavic Deemax Elite wheels: you have a great performing and reliable spec list that is more than ready for any round of the EWS.
For those riders who wish to build their own custom dream bike; we offer an awesome unique colour way to the Carbon Frame only's. It's a hell of a line up.
It's not all about the high end price tags; not to be overlooked are the Mega 275 and 290 Comp models. Always one of our top sellers, we've updated the Comp level specification to include a Sram NX Eagle drivetrain and the latest Rockshox Yari Charger RC fork so it's just as ready to ride, race and enjoy as its more exotic siblings.
We've had the 290 as an alternative option to the 275 for a long time now. Both are intended for the same purpose, but for riders that prefer 27.5" or 29". Year on year 29" interest seems to grow and we have further improved offerings with the awesome Mega 290 Factory, PRO and Comp models. With a new 290 Alloy frame launched in 2018, the Mega 290 has been a huge success. The question we will usually be asked is – "Why no carbon?" We're not saying never, but until we can produce a frame that we feel offers significant advantages over the alloy sibling, we will hold off.
As note for riders, all 2019 Nukeproof Mega's (Rockshox and Fox equipped) will come with 2 volume spacers in the rear shock. With these shocks so easy to tune, we wanted to give our riders to option to be able to remove to taste and to tune the shock to their personal preference.
2019 Nukeproof Scout:
Whilst the Mega gets all the lime light, there is still something about riding a great hardtail. Unlike suspension bikes, they don't compensate for lack of skill and are great for both beginners: as they teach you to ride properly; and more experienced riders as they help you hone your skills; riding smooth and efficient as you have to pick the best lines to carry speed. The Scout name has been around for a number of years now and has developed something of a cult following within the Nukeproof owners world. It's low slung frame with slack geometry make the Scout a playful and hard hitting trail weapon that is ready for adventure. It's a truly versatile machine, designed to rail berms, ride dirt jumps, trails and explore. Available in both 275 and 290 spec and in 3 models (Comp, Race & Sport), there are plenty of options for all tastes and budgets. The main difference between the two wheels sizes are that the 275 uses 2.6" tyres to offer that little more damping on the trail, whereas the 290 is all about flat out speed and rolls on 2.35". Regardless of tyre size, quality Maxxis tyres are used throughout the Scout range.
We've taken our customer's feedback on the chin and all models now get a quality Rockshox fork: Revelation, Sektor or Recon; and have made improvements to the contact points so every Scout now comes with a comfy saddle and Sam Hill Signature grips.
We're especially proud of the Scout Sport 275/ 290. For 2019, the price for has risen slightly, but so has the quality of the components and finishing kit resulting in a ride that far exceeds the price tag. We have spent time to hone and refine the specification: to offer riders the very best introduction to the Nukeproof range without compromise. It now features a slick Suntour 1x crankset with Shimano Deore 1x drivechain, new 140mm (275)/ 130mm (290) Rockshox Recon RL fork and it rolls on a Nukeproof Neutron/ WTB wheelset with quality Maxxis Minion (275)/ Forekaster (290) tyres.
2019 Nukeproof Digger:
It seems that a lot of brands have gravel bikes now, although the Nukeproof Digger is not designed as a gravel bike/CX/Adventure bike. It was originally conceived as an on-and-off-road capable winter training tool for our athletes, but it has become so much more and as a result, it is hard to pigeon hole. The Digger is essentially a super versatile alternative bike for Mountain Bikers; It wants to get you out exploring, regardless of the surface under your tyres. Although it is perfect for commuting to work or meeting friends at the pub, it wants you to turn off the asphalt and onto the dirt. You can now take that muddy short-cut on your commute or to try the longer off-road way instead. The key to its versatility lies in the fact that it can take all manner of wheels and tyre sizes. It will take anything from a 700c wheel with 45c tyre to a 27.5" wheel with 2.3" tyre. It will even take a 29" wheel with up to a 2.1" tyre. On top of this, we have designed in a removable seat stay bridge so you can have mud clearance when you want or you can choose to run full proper mud guards to keep you clean.
Our Diggers are spec'd as a mountain biker would want; Bolt through, Disc and 1x specific with dropper post capability and a wide handle bar for confidence, even in the drops. Both Digger models come fitted with a carbon fork for comfort and clearance, 15x100mm/142x12mm bolt through hub spacing, Flat mount disc brakes, 27.5″ wheels, fitted with fast rolling 47c WTB Sendero Road Plus tyres that crucially, are more than capable off-road too. Unlike most bikes in this category the Digger is 1x specific and enables you to fit a dropper post to get the saddle out the way when your pushing the limits off road. The Pro model comes fitted with a BX Ascend seatpost with 120mm Drop as standard. The Drivechain for the Pro (Blue/ Copper) and Comp (Concrete Grey/ Black) are kept simple and clean with Sram's new 1x Rival (Pro) and Apex (comp) 1×11 systems.
2019 will be an exciting year for Nukeproof so watch this space. For more details head to: nukeproof.com
Featured in this Post
Comments