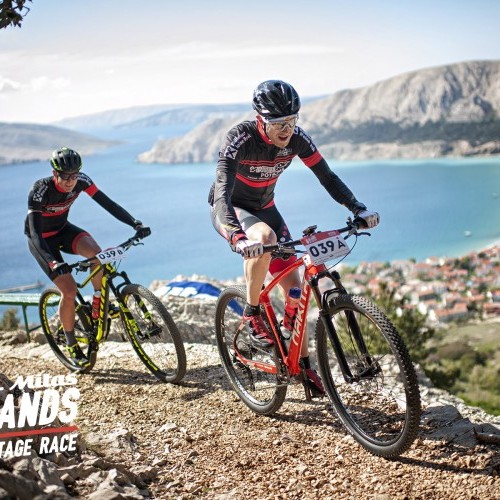 Mitas 4 Islands MTB Stage Race 2019
Sun 2nd Dec, 2018 @ 12:30 pm
Win a Hassle'Off Multi Tool this issue in our FREE subscriber prize draw.
For the majority of mountain bikers traveling to a mountain bike race is about more than just the time you complete the event in or your final position. It is also about the event itself, the atmosphere, the destination, the people, the toughness and joy… everything that makes up the total experience.
Regarding ingredients necessary for great MTB event, we won't go too far at all if we say that Mitas 4 Islands has become one of most interesting stage races at old continent and we would dare to go even beyond that.
Unique race in the world of MTB is a pretty bold statement and not many races in the world can make that claim with enough right arguments – if take a closer look to this race you will find your self-riding on a different island every day of the race: 4 days-4 different islands. Adding traveling by boat between those beautiful Adriatic gems and starting from floating ferry with sounds of ship siren sounds pretty unique.
Did we mention trails – riding through dry stone walls connecting old villages, Roman cities, with sharp climbs and downhill ending at beaches of Adriatic see…
4 Islands is a UCI event S1 category, so it's guaranteed some of fastest riders will be in attendance. This year accomplished UCI riders like will pushing the pace up front and although majority of participants won't be starting with them, unless they have UCI license, they will definitely measure their effort against UCI elite starts.
During the race, competitors will ride 262 km and make 5720 m of vertical climb, over 4 different stages and prologue.
2 type of accommodation is available: 3* and 4* hotels will ensure you a good recovery and free time between stages.
Race package ensure 6 nights and price is 399 eur per rider
The more unique experience will deliver you a boat accommodation which will lead you from one island to another and to the start/end of each stage.
Different types of boats are available, depending on luxury, and the price starts with 600 eur and goes up to 900 eur per rider.
Categories
Men (18 – 39 years)
Woman (from 18 years)
Masters (40 – 49 years)
Grand Masters (over 50 years)
Mix (woman + man, over 18 years)
UCI categories
UCI ELITE MEN – men, over 18 years old with valid UCI licence
UCI ELITE WOMAN – woman, over 18 years old with valid UCI licence
Stages
Prologue: Baška – Baška (island of Krk)
13 km / 300 vm
Stage 1: Baška – Krk (island of Krk)
72km / 1750 vm
Stage 2: Lopar -Lopar (islands of Rab)
65km / 1120 vm
Stage 3: Merag – Osor (Island of Cres)
73km / 1650 vm
Stage 4: Lošinj – Lošinj (Island of Lošinj)
40km / 900 vm
Full Service Race
Professional medical service on all stages and in finish line
Professional rescue service on all stages
Meal after each stage
Service areas on all stages
Bike wash areas on all stages
Hand luggage
Welcome drink on Monday 08.04.2019.
Stage briefing prior each stage
Document info for participants
Winner ceremony on 13.04.2019.
Finisher party on 13.04.2019.
Prices
Regular price: 400 €  01.10.2018 – 31.12.2018
Last minute: 450 € 01.01.2019 – 10.03.2019
NOTE: Price is per participant (1 rider)
Testimonials
Esther Suess – Pro MTB rider
"It was really great days in Croatia, it was well organized, the people friendly, the food on the boat SUPER GOOD, the ship PERFECT accommodation and a great experience, the trails full of excitement biking, the landscape INCREDIBLE BEAUTIFUL and varied…"
Shannon Boffeli – Pro MTB rider
"Without a doubt Croatia offers up some of the very best riding I've seen in all of Europe. And I don't mean groomed flow trails. I'm talking about narrow, rough, rowdy singletrack that never lets up from the start of stage one to the final beach on Losinj."
James Hinsby
"The format of this race is brilliant. Each island has its own charm and character. It's tough though, early season, steep climbs, technical downhills but stunning all the way. Great to get some early sunshine and it's well we'll run too. C u next year."
Web Page: http://www.4islands.hr
FB Page: https://www.facebook.com/4IslandsMTB/
Featured in this Post
United States
910,394
Switzerland
611,315
Comments