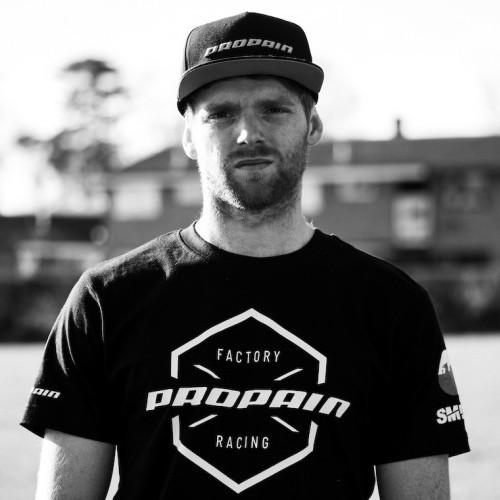 Welcome To Propain Factory Racing!
Thu 7th Feb, 2019 @ 9:30 pm
Joe Smith joins the team this year and brings with him years of racing experience. One of the remaining flat pedal racers we can't wait to see his savage style this season on all of our different bikes!
Joseph Smith
28 years old
Best racing achievements:
– 2015 British Downhill Series Champion
– 2015 Redbull Hardline 2nd
– 2016 Leogang WC 9th
– 2016 EWS Wicklow 9th
– 2012 Fort William WC 7th
Loves cornering, nothing better than linking up a couple of sweet turns.
Little known fact: I was the first member of the Abermule Beaver Scout Group.
"I'm really excited about joining Propain Factory Racing, having known Ben Reid from when I started racing it's going to be really cool working with him and the rest of the team this season. For 2019 I've started working with a new coach and training is going really well, I'm itching to get out, meet up with the whole team and get the season started off. I'm so grateful to be traveling the world doing what I love and hopefully I can pass on some of my knowledge of racing to some of the younger guys on the team."
Next up we have first year junior rider Luke Williamson from Southhampton, England. Luke proved his speed last year in the Youth category with respectable times in the Elite category. We are really looking forward to seeing Luke grow as a rider in the next level of his racing and we are sure he can do battle with the top racers in his field.
Luke Williamson
16 years old
Best racing achievements:
– Winning National Championship at Glen Coe in 2018
– IXS Youth winner, Brandnertal 2018
– Fort William BDS winner 2018
– Overall Youth British Downhill Series Winner 2018
Loves to ride fast and rough tracks.
Little known fact: First win on a pedal bike was on the pump track at Les Gets aged 11 – winning an extra large pair of adult shorts! This was before I had even ridden a DH bike.
The only non Brit on the team, Rudy Cabirou will bring a bit of his French suave to the team. With a top ten World Cup result under his belt and some solid Enduro World Series results we are stoked to have him on the team to fly the flag for Propain Factory Racing!
Rudy Cabirou
24 years old
Best racing achievements :
– 8th at Lenzerheide WC in 2017
– 17th overall WC in 2017
– 4th European Championship in 2017 and 2018
– 10th WC Lourdes in 2015
My favorite thing to do on a bike is to ride a sick spot! Shred the spot on my DH bike with friends and share good times.
Little known fact: Positives vibes, food lover and always training hard to be better!
We saw Henry Kerr progress so much aboard our bikes last year, from starting the year with a few mishaps then going on to taking multiple podiums to claim second overall in Junior was an amazing achievement. To be putting in consistent top 40 times in Elite already is a great starting point for Henry to move up to do battle in the main arena.
Henry Kerr
18 years old
Best racing achievements: Finish 2ND in the Junior World Cup Overall
Loves a nose dive.
Little known fact: I am British American dual nationality
"I'm beyond stoked to be racing my 1st year as elite alongside the same team I have been riding for since I first came on to the World Cup scene as a junior. It's going to be a big step up but I am hoping to carry my momentum moving into elite alongside some experienced and quick teammates. With a new look and new sponsors its going to be a mint year at the races and can't wait!"
Team kit is provided by Leatt this season and we think it looks mint!
A few words from team manager Ben Reid:
"I count myself very lucky to have been in the position to build a race team around my own racing career which is how this all started for me, I needed a lot of things to line up to make that possible alongside the long hours and it's always been a dream to make the switch from being a privately run team to have a bike company step up and take things to the next level and having Propain as that bike company is simply a dream come true.
The guys have all been working hard to help bring the new team together which has made my job more achievable as the team continues to grow. I'm really excited about the squad we have moving forward. With Henry winning the British overall last season and taking 2nd in the World Cup overall I can't wait to see what he can do in with the elites. Luke Williamson was a rider who really impressed me alongside many of last years youth riders which made the decision all the more difficult, I feel together with Propain we made the right decision welcoming Luke onto the team.
We became interested in Rudy Cabirou towards to end of last season and after a couple of chats trying to speak my clearest version of English to the young French man we quickly discovered it was a good match and with road manager Ben Siri being part French and also fluent this was all too perfect! Last but not least we have Joe Smith who needs no introduction, I've always admired his style and speed on the bike and with a string of World Cup Top 10's to his name Joe is another great addition to the new team. All of the above is just a teaser to let everyone know what we're up to, more exciting stuff to come soon. Keep your eyes peeled!"
Propain Factory Racing is supported by:
Propain Bikes looking after frames https://www.propain-bikes.com
Sixpack Racing providing finishing kit https://www.sixpack-racing.com
RS Farbroller https://www.rs-farbroller.de
Vee Tyre Co providing the rubber https://www.veetireco.com
Leatt providing apparel and protection https://www.leatt.com
Sram/RockShox supporting the team with suspension forks, brakes and drivetrain https://www.sram.com
Stans No Tubes supporting us with wheels and their trusty tubeless system https://www.notubes.com
EXT Shocks supporting us with their amazing shocks http://www.extremeshox.com
Featured in this Post
Comments