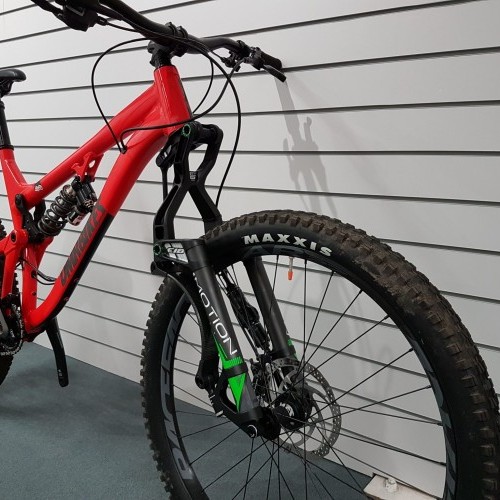 Just Landed: Schwalbe, Kenda, One-Up, Tannus and Motion
Fri 8th Feb, 2019 @ 6:30 pm
Fresh into the IMB office this week we have a range of goods to put through their paces, some of which are more unusual than others…
Motion E18 Fork
Linkage forks have been hovering on the margins of mountain biking for sometime now, but maybe 2019 is their year. With 160mm of travel this set are stapped onto the rather lovely DMR Sled and ready to show us what they can do whilst paired to the EXT Storia coil shock on the rear.
Schwalbe Eddy Current
Ebikes have been shod with bad tyres for too long, and Schwalbe aim to solve that with the new Eddy Current. Available in 27.5 and 29 they have a front and rear specific tread, super gravity casing and are ready to take whatever abuse you can throw at them, or at least that's what we hope.
Kenda Hellkat
Not a new tread pattern, but new casings all round for the well received Hellkat. There is now a gravity, enduro and trail casing for you to choose from, and each casing has a slightly different compound to make them ideal for that purspose.
OneUp EDC Tool System
Yep, that tool that goes inside your steerer tube can also go in a pump. The clever folks at OneUp have fitted everything you need into a high volume pump, including pliers and plugs. If you don't like wearing a pack, this could be a good step towards a packless existence.
OneUp Alu Pedals
Also from OneUp we have these flat pedals with pins that look like they won't let go of your foot without a fight. Large inboard bearings, 10 pins per side and a thin profile look like a winning combination for flat pedal fans.
Tannus Armour
So it turns out tubes aren't dead. Tannus believe that tubes are still good, and if you wrap them in a foam insert then the whole system is robust and highly resistant to punctures. No messing with sealant, just slide them in and say bye bye to pinch flats and and other kind of deflations. We've popped them on an ebike with thin tyres to see what happens.
Featured in this Post
Comments