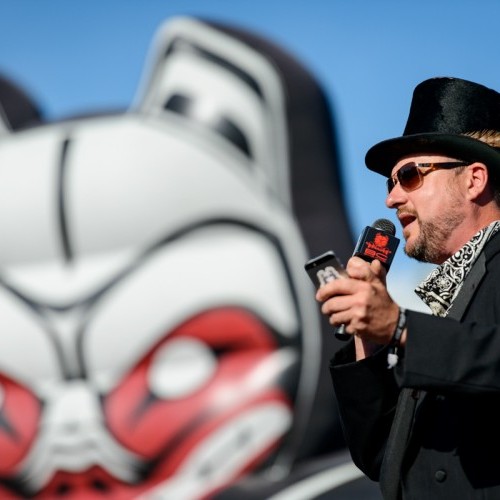 BC Bike Race: 'Ultimate Singletrack Experience' Announces 2019 Route & Details – LUCKY 13th Year!
Wed 12th Jun, 2019 @ 12:30 am
BC Bike Race: 'Ultimate Singletrack Experience' Announces 2019 Route & Details – LUCKY 13th Year!
BC Bike Race (BCBR) is proud to announce the official 2019 route and details (July 5-12, 2019). Each annual course brings fresh challenges to all racers, both first timers and alumni. Every year the route changes to make sure that each racers' experience is unique and exciting. The new 2019 route is filled with the latest available singletrack. Being in the age of modern trails, strong bike clubs and full time trail builders makes building the Ultimate Singletrack Experienceeasier each year.
This July, an incoming wave of 600 racers from 39 different countries will get to come out and enjoy some old and some new as they ride some of the best singletrack BC has to offer. New for 2019, along with plenty of minor tweaks is a new Day 0 Prologue in North Vancouver and all new Day 3 in Cumberland.
"Being the Ultimate Singletrack Experience isn't an easy goal but it's something that drives our core values and is truly at the heart of what we do and why we ride bikes," said Marketing Director Andreas Hestler.
What's New?
The Prologue –  takes place on the Richard Juryn* trails of North Vancouver. The sub-4km ride will begin just seconds away from registration at Capilano University. While still a challenge, the Prologue will be focused on determining racer seeding for the next day's full stage. It will also count toward to overall race time while also allowing racers to warm up and give them a small taste of what's in store in the week-long adventure ahead.
Day 3 in Cumberland is a brand new creation owing to the ever growing inventory of new trails each year. With so many new trails to explore it's only natural that we add another stage here. This slightly shorter stage will ease riders into the middle of the week and incorporate old classics like Buggered Pig and Space Nugget with new Eastern Bloc trails such as Crazy Ivan, Rizome and Woodcutter.
Why Lucky 13?
As mountain bikers, we can be a superstitious lot. Sometimes it's lucky socks, a lucky pair of shorts or a lucky number that we rely on to get us to the finish.  2019 is our 13th BC Bike Race and we're embracing the opportunity to celebrate our Lucky 13th year.
Route at a Glance:
Lulu lemon – North Vancouver BC – 3.5km – Prologue
Richard Juryn Trails* https://www.trailforks.com/route/bc-bike-race-2019-day-0–prologue-north-vancouver
Cliff Bar – Cowichan Valley BC – 41 km – Day 1
A unique split stage with combined times, two mountains separated by a neutral traverse in between. 2019 is only the second running of this amazing track.
https://www.trailforks.com/route/bc-bike-race-2019-day-1-cowichan-valley
Maxxis Tire  – Cumberland BC – 40 km – Day 2
Adjusted in 2018 to include even more singletrack and featuring the second 'lobe', this includes 10km of pure singletrack bliss, this recent addition will be a treat for all the racers.
https://www.trailforks.com/route/bc-bike-race-2019-day-2-cumberland-1-0
BC Ferries – Cumberland, BC – 26 km – Day 3
NEW STAGE! There are simply too many great trails in this small town so we added another course of singletrack awesomeness.
https://www.trailforks.com/route/bc-bike-race-2019-day-3-cumberland-2-0
Rocky Mountain – Powell River, BC – 50km – Day 4
With a base camp on the shores of the Salish Sea facing west and long winding ribbons of brown pow, this classic will never get old.
https://www.trailforks.com/route/bc-bike-race-2019-day-4-powell-river
Ryders Eyewear – Earls Cove to Sechelt, BC – 57km – Day 5
Long and hard and finishing in the burgeoning network of West Sechelt. The singletrack bliss that is nearer to the back half demands some patience and endurance but is well worth the wait. This route has been the Queen Stage for many years.
https://www.trailforks.com/route/bc-bike-race-2019-day-5-earl-s-cove-sechelt
Shimano – Sechelt to Langdale, BC – 49km – Day 6
A virtuoso of a tour, every climb rewarded with a significant descent, just the way mountain biking should be. The final 7km singletrack is all downhill to the finish.
https://www.trailforks.com/route/bc-bike-race-2019-day-6-sechelt-langdale
Harbour Air – Squamish, BC – 52km – Day 7
Voted the number one favorite every year, the combination of rewarded ups to downs, the variety of flow to gnar all mixes together to make this the best final day possible.
https://www.trailforks.com/route/bc-bike-race-2019-day-7-squamish
Route Details:
Cowichan Valley
The BCBR will be starting Stage 1 in the Cowichan Valley. Here racers will explore 41km of gorgeous singletrack littered with red Arbutus trees and amazing views of the surrounding countryside. The racers will tackle some of the locals' favourite riding zones, Mount Tzouhalem and Maple Mountain. They will experience everything from super-fast flow trails like DD, to undulating single tracks set amidst rocky technical challenges, Danalyzer, Rocky Mountain Ridge and the steep and deep staple's of Maple Mountain, upper and lower Maple Syrup. Watch for the Totems of the Story and Xylem trail that start the climb and the animated Canadian Hosers cheering riders through the last few km's to the finish. Unique to Stage 1 is a split course format with a neutral segment between the mountains and trail networks. From the basecamp in Cowichan Valley, racers will be transported to Cumberland for an exciting, two-day adventure.
Cumberland
Stage 2, in Cumberland will head quickly into the forest on a sustained gravel climb that will separate the riders, the Davis main.  This climb is approximately 10km with the last 1.5km on uphill singletrack.  After this climb, the riders get to experience some of Cumberland's finest singletrack as they head back down towards town. Furtherburger, Blockhead, Bear Buns, and across Sykes bridge will take them up to the feature trail, Vanilla. Then they will ride Tea Pot, That Dam trail, Missing Link, and Mama Bear. This is only part of the fun for Stage 2. The racers will then continue to the last 10km of the course known as the second 'lobe'. This second lobe is all-singletrack and begins with the trails: Mondays, Tuesday, Wednesday are known as 'the days of the week.' They will then make their way through some undulating singletrack before the big pay off a high-speed descent down Top Hat and Iron Curtain to the finish line. Base Camp at Cumberland's Village Park will cap off the day and get riders ready for their second day in Cumberland.
Stage 3, has racers awakening in the beautiful village of Cumberland for the second time, racers will get the chance to ride a brand new course on many trail never before used in the BC Bike Race. This course of 26km will feature favourites such as Buggered Pig and Space Nugget plus new segments never before included in BC Bike Race: Rizome, Woodcutter and Amore. After this, racers will head aboard BC Ferries and cross over to a beach front campground in Powell River for Day 4.
Powell River
Stage 4, begins and ends at Willingdon beach – Powell River – with incredible views west of Vancouver Island over the Salish Sea. Today racers will ride beside the Pacific Ocean. This 50km course has been refined to be an incredible smorgasbord of long, brown,  ribbons of narrow singletrack. Trails like Suicide Creek, W8, Cable Trail, Bob's Your Uncle and Cream Soda wind through mossy old growth forests and beside electric green ferns, a visceral exploration of 'deep in the forest'. The animated and friendly Powell River locals welcome the international participants to their small but awesome community. After exploring this selection of Powell River's trail network there will be time to relax on the beach and recharge for the next day.
Earls Cove to Sechelt
Stage 5, this point-to-point will start on a short BC Ferries boat ride from Saltery Bay to Earls Cove. Racers will walk off the ferry, pick up their bikes and get right back to it as they explore fantastic singletrack, punchy climbs and steep descents for the 57km course from Earls Cove to Base Camp in Sechelt. This route has traditionally been the Queen stage of BCBR and has left many racers crushed, but jubilant to be so close to the final goal. Frogger, one of the newest climbing trails leads to descent after descent, Killer Squirrel, Scullduggery, Rodeo and the finale VFR, Addernachs and Lee's Big Easy.
Sunshine Coast
Stage 6, another point-to-point on the Sunshine Coast will have riders ascend the first climb of the day leading to a swoopy and fast rip down BLT, the first singletrack of the day. Making their way up the second climb brings riders to Eldorado and the feature trail Rio Grande. From there, a series of climbs and descents will take everyone to the final 7km rip down legendary trail Hwy 102. This last segment will have racers whooping and hollering all the way to the Langdale ferry terminal. From here racers will head to their last stop of the journey and always a favourite, Squamish.
Squamish
Stage 7, and the final day of the race will take place in Squamish which has been voted racers' favourite course six years in a row. It won't be long before riders are on their first taste of singletrack, a trail called Roller Coaster followed by Lumberjack's. They will also get to experience one of Squamish's famous climbing trails, 50 Shades of Green leading to Rock N Roll and a chance to test out their cornering skills on Rob's Corners. A patient climb up the fire road will be rewarded with a trip down the legendary Half Nelson, a super-fast, super-fun, 'pump flow' trail and then on to a revamped Pseudo Tsuga 1, 2, and 3. More highlights like Powerhouse Plunge, Hoods in the Woods, and a short series of trails in Crumpet Woods round out this epic final day. From there it's time to head back to the finish line and celebrate, in mountain bike culture style, at the Ultimate Après Party!
We would like to extend a heartfelt thank you to the communities we visit – Cowichan Valley, Cumberland, Powell River, Sechelt, North Vancouver, and Squamish for hosting us and sharing their incredible trails with our international field of racers. We are also honoured and grateful to be riding and sleeping on the land's of the Quw'utsun, K'omoks, Tla'amin, Shishalh, Tsleil-Waututh, and Skwxwu7mesh First Nations. And of course, without all of the dedicated trail builders and volunteers, British Columbia would not be the mecca for mountain biking that it is today.
BC BIKE RACE 2020 Dates: July 2-10, Registration opens late June.
* Richard Juryn Trail Network – Background History
This trail is especially significant as it is named after a legendary member of our mountain bike community, Richard Juryn. Richard was a long time resident of North Vancouver who switched gears in 2002 from the high tech sector to his passion of outdoor events. In 2003 he helped organize Crankworx and the World Mountain Bike Festival. Richard was tragically killed in 2007 saving others in a kayak accident. Without people like Richard Juryn, our sport would not be as incredible as it is.
Featured in this Post
Comments