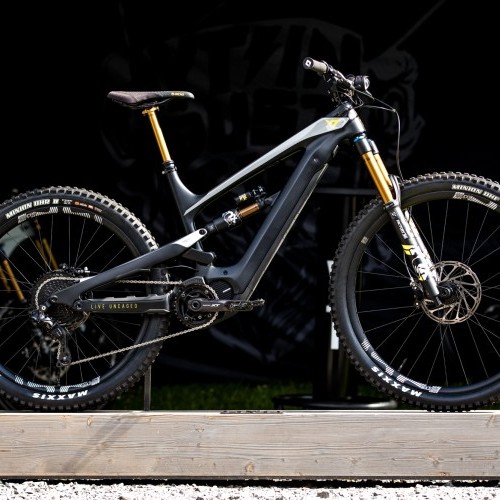 YT Decoy: First Ride
Wed 12th Jun, 2019 @ 3:30 am
YT didn't rush into the ebike game, instead, they took their time and probably watched and learnt from everything else that was going on in the mountain bike world. Coming fashionably late to the party is never considered a bad thing, and the Decoy is their answer to the questions of what happens when you electrify a mountain bike.
Borrowing plenty of design and performance cues from the Capra and Jeffsy, the Decoy slides into the range effortlessly with its familiar silhouette. Based on mixed wheel sizes, the Decoy runs a 29er wheel up front and a 650b wheel out back. Suspension travel is 165mm out back and paired with a 160mm fork running a head angle of 65/65.5 depending on flip chip. The motor is Shimano E8000 and uses a custom battery to deliver 540Wh in an integrated format.
More details on the specs can be found here: https://www.imbikemag.com/mountain-bike-news/2019/03/yt-industries-release-new-e-bike/
The Ride
I met up with the YT Rolling Circus to have a spin on some local trails and see what the Decoy could offer. Gisburn Forest trails are just down the road from me and offer a rocky and rough trail centre to test out the Decoy.
So first up YT has gone down the lines of taking a great bike and adding a motor, by this I mean the numbers and set up feel good, and would be good even without a motor. This translates to a very natural position on the bike, which feels familiar and comfortable. I was instantly impressed with how much grip was available between the 29 and 650b wheel combo. The low slung weight and large volume tyres working wonders through tight, loose turns. It was actually hard to get the back end to break free which was almost a problem round super tight turns.
The E8000 motor is always a pleasure and having ridden an E7000 recently I was reminded how much more top-end power there is on the 8000 model. The power itself is controlled with Shimano's new low profile shifter which is subtle and tidy and a great improvement over what came before. Interestingly my Di2 set up was also operated by the new SW-E7000-R controller but I can't say I was as impressed with it as a shifter.
At 21.9kg the Decoy is an impressive weight and as such feels pretty playful but still takes some effort to get off the ground. With speed and momentum though, the Decoy is happy to get airborne and is confident and stable in the air on jumps and drops. It's essentially a very easy bike to ride and offers stability and traction in bucket loads.
Where the Decoy then shines is where it can offer that stability and speed, which means rough trails and rocks work really well, but smoother trail sections can be a little underwhelming.
Technical climbing was limited on my test, but the seat angle and chainstays work well together to create a forward seating position and keep the nose down on the very steep trails. The top end power from the motor also allowed the Decoy to be fired up some creative trials-esque lines in good style.
Essentially the Decoy is a great all rounder and despite not being on the wildest or steepest terrain, it managed to shine. My only issue was with the tyres, which I pinched on a rock, and was a timely reminder that downhill tyres or inserts are really needed on ebikes!
The Decoy is clearly set to be very popular, with great looks and style and a tried and tested motor system there is little to complain about. Add to the mix the direct sales pricing and it's a combination that many will find hard to resist. With numbers and a riding style that is familiar and reasssuring, the transition to electric has never been smoother.
Future testing is on the cards and I'd love to see how it performs on longer, steeper and looser climbs, as well as on some proper downhill terrain.
Featured in this Post
Comments