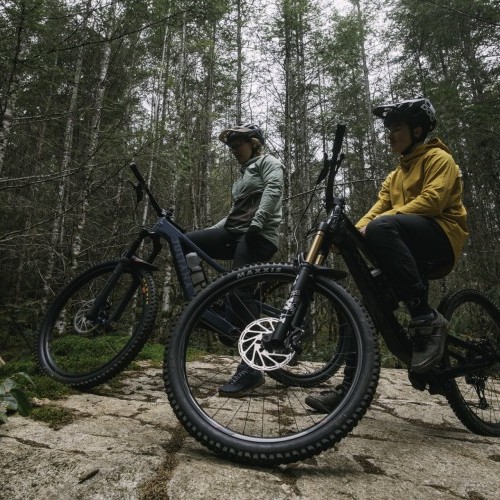 7Mesh Introduce Fall 2022 Collection
Mon 29th Aug, 2022 @ 3:30 pm
7mesh Fall 2022: Introducing WTV
7mesh has long sought a fabric construction that would protect riders from cold winds and low temperatures, while still offering the circulation needed to prevent overheating. Now after years of development, for Fall 2022, 7mesh is launching WTV, a brand-new fabric named for the three challenges it balances–Wind, Thermal, Ventilation–to provide comfort on chillier rides from start to finish.
To create a single fabric accommodating changing conditions and output, 7mesh focused on air permeability. Engineering the textile to regulate the movements of air, water, and water vapour provided the foundation for garments which offer powerful warmth while also ventilating excess heat and moisture.
The two-part construction of WTV provides a high-density stretch woven outer face that acts as a wind regulator, backed by loft insulation with brushed yarns to capture warm air. In use, the trapped warmer air sits at higher pressure than the cooler air on the outside. This differential helps balance the system by pushing some of the warm air and moisture out.
WTV's painstakingly developed construction was guided by the wilderness and conditions of 7mesh's Squamish BC surroundings and refined with extensive feedback from 7mesh athletes. Limits were pushed by thousands of miles of winter riding, from backcountry adventures to snowy singletrack, and road rides.
WTV is being offered in eight styles, four for men and four for women. The Seton Jersey and Seton Vest feature a trim fit for moving fast and cheating the wind, with ample stretch to keep the jersey close-fitting. 7mesh makes gear to disappear, and the rich-feeling insulation moves quietly, allowing riders to focus on the path ahead.
The Chilco Anorak and Chilco Vest are made for exploration and finding your way, with articulated, trail-friendly shapes for optimal on-bike fit, and versatility at the après. They breathe and move, venting excess warmth and moisture when the trail goes up or on sunny traverses, but holding heat when the way points down or conditions cool off.
Retail Pricing:
Chilco Anorak                     170 GBP / 190 EUR / 220 CAD / 200 USD
Chilco Vest                          130 GBP / 150 EUR / 170 CAD / 160 USD
Seton Jersey                       170 GBP / 190 EUR / 220 CAD / 200 USD
Seton Vest                          130 GBP / 150 EUR / 170 CAD / 160 USD
Visit 7mesh.com to see WTV and the rest of the new Fall 2022 tools for fall and winter riding.
Featured in this Post
Comments