Official Red Bull Hardline Rider List 2022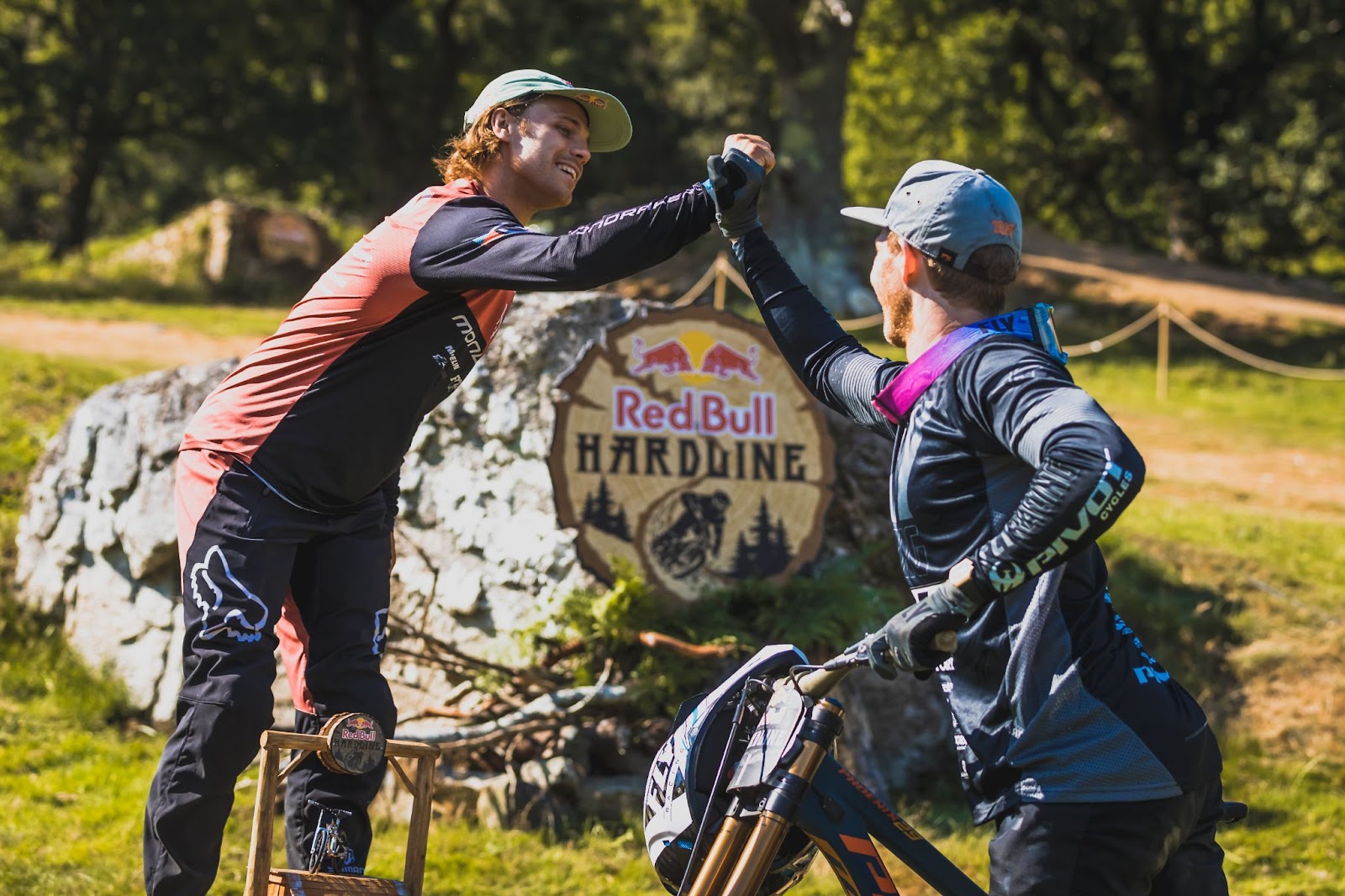 The world's toughest downhill mountain bike race, Red Bull Hardline, is not for the faint hearted. As we draw towards the end of an action packed UCI world cup racing season, the world's most fearless downhillers look ahead to the return of Red Bull Hardline for it's eighth and greatest edition. A world-class line up of riders are set to descend the Dyfi valley track as spectators return to the infamous course designed by Dan Atherton for the first time since 2019.
Who will cement their place in downhill MTB history by delivering a clean run to clinch victory in front of thousands of eager fans in the 2022 edition of the world's toughest downhill mountain biking event?
Red Bull Hardline triple crown winner Bernard Kerr returns to defend his title, as last year's overall winner prepares to tame the biggest features of any race on the downhill calendar. Having guided new and less experienced riders through the course in the 2021 edition, he'll brave the hardcore course including some exciting new sections set to wow spectators and Red Bull TV viewers alike (stay tuned for details). Previous winners, Danny Hart and Craig Evans are no strangers to Red Bull Hardline and the Welsh mountains and will return this year with a vengeance, as they set out to replicate their blazing runs from 2014 and 2017 respectively.
This year, Brook "the 'Bulldog" McDonald will also return for the first time since 2016, eager to defy gravity once again after recovering from a severe spinal cord injury three years ago.
With spectators allowed back on site, the atmosphere is guaranteed to be electric. All eyes will also be on Kaos Seagrave, eagerly waiting to see if he'll throw another huge backflip over the Step Up like in 2019. Crowds can also expect to see local riders like Joe Smith return after suffering a hard crash last year as he looks to tame Dan Atherton's intense and technical downhill track. Atherton Racing's own Charlie Hatton is also set to ride as he aims to go one better than his podium finish in 2018, alongside Red Bull Hardline course builder turned racer Jim Munro. Fellow team mate Andreas Kolb is also set to take on the world's toughest downhill mountain bike event for the first time after a strong season on the world cup circuit.
We'll see exciting new faces set out to do the same with the likes of New Zealand born trailblazer, Jess Blewitt and 18 year old Junior DH world champ Jackson Goldstone, forming the strongest Red Bull Hardline rider list to date.
For the second year in a row Red Bull is working again with Trash Free Trails (TFT), the community-focused, non-profit organisation with a mission to protect our trails and the wild places they take us.
Red Bull Hardline will be broadcast live globally on Red Bull TV from 1pm on Sunday 11th September. Ahead of the event, fans can enjoy daily shows documenting all of behind the scenes action at Red Bull Hardline with episodes 1 & 2 available to watch on Saturday 10th Sep, and episode 3 as an exclusive pre-show offering on Red Bull TV ahead of the main event.
For further Red Bull Hardline rider updates and for more information visit http://www.redbull.com/hardline 
Confirmed Rider List:
Phil Atwill (Propain Bicycles)
George Brannigan (NS BIKES UR)
Adam Brayton (Hope Tech)
Ronan Dunne (Continental Nukeproof Racing)
Kade Edwards (Trek Factory Racing)
Craig Evans (Santa Cruz)
Dennis Luffman (FMD Racing)
Sam Gale (Specialized Bicycles)
Jackson Goldstone (Santa Cruz Syndicate)
Jess Blewitt (GT Factory Racing)
Thibault Laly (Pinkbike Racing)
Harry Molloy (Madison Saracen)
Danny Hart (CUBE Factory Racing)
Charlie Hatton (Continental Atherton MTB Race Team)
Sam Hockenhull (Cannondale)
Dan Atherton (Continental Atherton MTB Race Team)
Matteo Iniguez (Commencal Vee)
Gaetan Vige (FRF Race Company)
Bernard Kerr (Pivot Cycles)
Andreas Kolb (Continental Atherton MTB Race Team)
Josh Lowe (YT Industries)
Brook Macdonald (MS Mondraker Team)
David McMillan (Specialized Bicycles)
Jim Monro (Continental Atherton MTB Race Team)
Flo Payet (Scott Factory Racing)
Kaos Seagrave (FMD Racing)
Joe Smith (Vitus Bikes)
Vincent Turpin (Scott Factory Racing)
Theo Erlangson (Computer Mania MTB Team)
Comments