The Strive Diaries: New Partners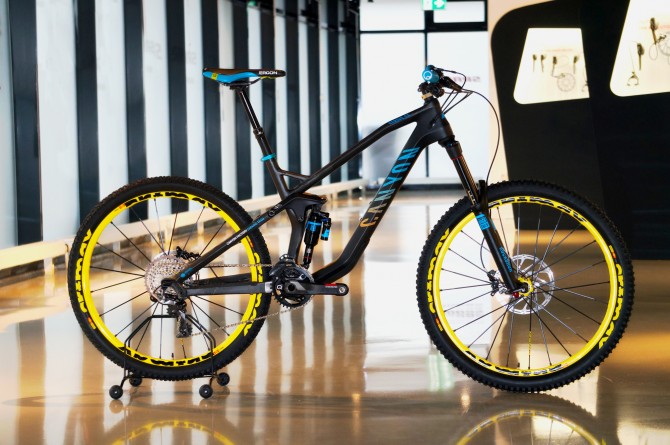 The team news continues to roll, this time it's the turn of the Canyon Factory Enduro Team, Fabien Barel, Dukes of Hazzard's Joe Barnes and their fellow team mates all remain the same, but they have a few new partners on board:
It's a tough old game trying to predict the future, but if the back end of 2014 is anything to go by, then 2015 is going to be pretty darn good for the Canyon Factory Enduro Team (CFET). While our tried and true line-up of Joe Barnes, Ludo May, Ines Thoma and Fabien Barel remains unchanged, we've got three new partners joining us for the ride in the new season.
CFET will run their Strive CF race bikes with RockShox forks and shocks in 2015, capture all the action in HD with GoPro cameras, and illuminate the trails after the sun goes down with Lupine Lighting Systems.
Flo Goral, manager of CFET, looks forward to working even closer with SRAM this year:
"The working relationship between SRAM and Canyon goes beyond just business. We share the same attitude to riding, set the same high standards for our products, and have worked together across a variety of disciplines and at events for several years. Ever since the team was founded back in 2013 we have ridden with XX1 drivetrains, SRAM brakes and Reverb dropper posts, so making the shift to RockShox suspension was an easy step that will further strengthen our cooperation. That kind of consistency is not just good for our team, but for riders everywhere as at the end of the day, it improves the quality of all our products thanks to the punishment the team dishes out on their parts. I alsocan't wait for the guys to start using the new SRAM XX1 Quarq Power Meter. The performance analysis that power meters provide is a big step up for us and will really raise the level all around."
For John Dawson, SRAM MTB Sports Marketing Director, it's all about progression through racing:
"The Canyon Factory Enduro Team has been a great partner, representing SRAM's brakes and drivetrain components for the last two years. It only made sense to include RockShox front and rear suspension onto the bikes of their powerhouse roster. Combining efforts with a progressive company like Canyon, who love to go racing as much as we do, is what this whole thing is all about. We can't wait to start racking up the results."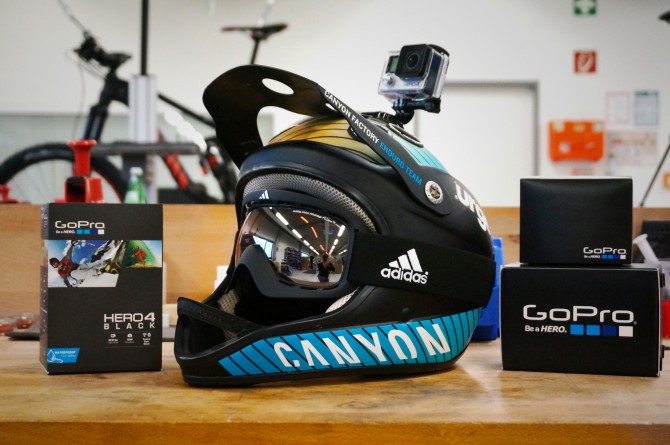 Helmet cams are nothing new, but their importance on race weekends cannot be overstated when it comes to scoping out the best lines, especially when practice time is so restricted. It's great to partner up with GoPro this year as they've always set the benchmark in POV camera technology. Our guys will be using the new Hero4 throughout the season when getting to grips with new tracks.
There are times that you get carried away when shooting or testing that you don't even notice it when the light begins to fade. Back in Chile last year we got stuck trying to ride down a boulder field in the pitch black. That wasn't ideal, so getting hold of some decent lights for the new season was a big priority. With Lupine Lighting Systems we can rely on German quality that is built to last and has enough power to turn night into day.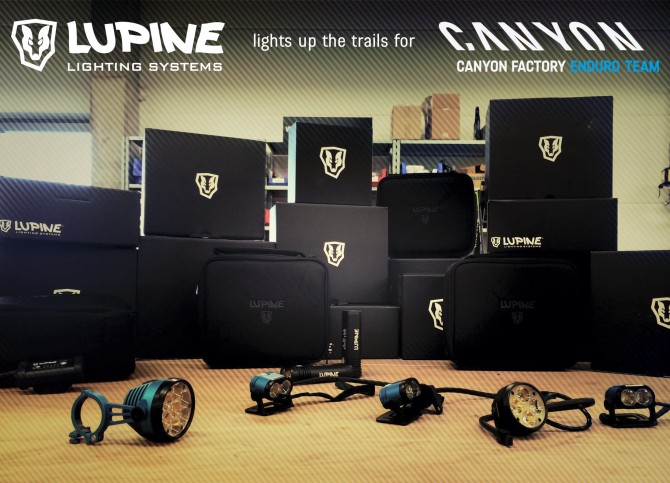 Moritz Reiser, Sales & Marketing Manager of Lupine Lighting Systems, welcomes the new partnership:
"It's exciting that CFET will be representing Lupine around the world this year with our Piko, Wilma and Betty R headlamps. We look forward to a great season together!"
The Canyon Factory Enduro Team will be supported by the following partners in 2015:
Mavic: Wheels, tyres, riding clothing and equipment
SRAM: Drivetrain, brakes and power meters
RockShox: Forks, rear shocks and dropper posts
Ergon: Grips, saddles, gloves and backpacks
Topeak: Tools
Renthal: Handlebars and stems
Urge Bike Products: Full face helmets
E.Thirteen: Chain guides
GoPro: Cameras
Lupine: Lighting
Muc-Off: Bike care products
Clif Bar: Sports nutrition
7id Protection: Protectors and vests
Mucky Nutz: Mudguards
Featured in this Post
Comments