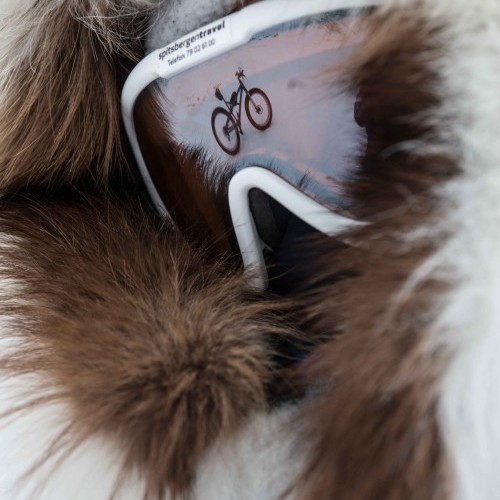 #MondayMotivation: Breaking The Cycle
Mon 18th Apr, 2016 @ 9:30 am
Get the kettle on, a wooly hat and sit back with some awesome #MondayMotivation from polar cyclist and explorer, Dr Kate Leeming as she sets out to conquer Greenland and the South Pole on a custom, mega-wheeled fatbike. Facing mega-low temperatures and huge distances Kate's mission is to make the first bicycle crossing of the Antarctic continent via the South Pole.
Dr. Kate Leeming
Considered as one of Australasia's leading women explorers, Kate has cycled a distance equivalent to twice around the world at the Equator. With an Honorary Doctor of Education degree for 'outstanding service to education and community', and as a professional sports person, she feels a strong responsibility to share her experiences and learning to inspire, motivate and be a positive role model. Kate's last two major expeditions, 25,000km through Australia and 22,000km across Africa (from Senegal to Somalia) were Official Activities for the United Nations Decade of Education for Sustainable Development; both initiatives complemented by innovative education programmes.
Breaking the Cycle Greenland
Breaking the Cycle Greenland will be a 400km supported bicycle journey through Jameson Land and Liverpool Land on the north side of Scoresbysund, the world's longest fjord, situated just north of 70 degrees latitude in Northeast Greenland. It will be the main preparatory expedition for Breaking the Cycle South Pole and a credible expedition in its own right.
Kate will be exposed to a range of snow and ice conditions that will be similar to those she will face in Antarctica, though by all reports, the snow may be a little softer and the average temperature a little warmer. Still, this will present a tough test for Kate, her support team and the equipment and help them to make the best decisions for the Antarctic continent crossing later this year.
The route will be flexible, but essentially it will be from Mestersvig, an old Danish military base, across to Liverpool Land where Kate will make the first north-south traverse by bicycle.
Kate's support team will include renowned Swiss filmmaker, Claudio von Planta and Paul Walker of Tangent Expeditions.
Christini all-wheel drive polar bike
Kate will be testing a custom built Christini all-wheel drive fatbike, mark II, that has been specifically engineered to accept the VEE Tire Company's 5.05" Snowshoe 2XL tyres. Kate tested the first Christini AWD prototype in Svalbard, Norway in 2013. Kate was impressed by the prototype but it could only accept a 4" wide rear tyre and this did not provide enough flotation in softer polar conditions.
The Greenland expedition can be followed on a live tracking map on the http://www.KateLeeming.com home page. The map will be linked to short blogs and images.
Breaking the Cycle South Pole
The physical mission of Breaking the Cycle South Pole is to make the first bicycle crossing of the Antarctic continent via the South Pole.
Route
There are several route options, the shortest, simplest being an 1700km journey from Leverett Glacier (Ross Ice Shelf), 550km to the South Pole and then 1150km down to Hercules Inlet (Ronne Ice Shelf).
Conditions
Antarctica is the highest, driest, windiest continent on Earth. Kate will face katabatic polar winds as she pedals toward the South Pole, (maximum altitude 3000metres) and benefit from a tail wind on the way back to the coast. Temperatures are expected to range between -15C and -40C in the extreme case.
Innovation
To turn this exciting challenge into reality Kate has been facilitating the development of some innovative technology such as the first all-wheel drive fat-bike, custom made clothing and the communications strategy.
Support team
Kate's highly experienced support team includes Australian polar explorer Eric Philips OAM as guide, renowned Swiss filmmaker, Claudio von Planta and British remote locations filmmaker and photographer, Phil Coates. The multi-award winning team has a phenomenal track record in expedition management and world-class media production. They can supply unique film and photo assets of the highest quality before, during and after the expedition.
In Antarctica, Icelandic company, Arctic Trucks will supply a support vehicle and a driver/mechanic and ALE (Antarctic Logistics and Expeditions) will provide logistical support.
Preparatory Expeditions
To ensure that Kate and her team are fully prepared for the Antarctic crossing, a series of smaller expeditions and test runs are scheduled during 2016.
Greenland – A 400km journey through spectacular Northeast Greenland that will include the first north-south traverse of
Liverpool Land by bicycle (26th April-18th May)
Indian Himalaya – Altitude expedition in the Ladakh region; 1500km+ journey, 3-4 weeks, (September 2016)
Documentary
BBC World News is prepared to show a six-part series (80 million weekly viewers) and feature the expedition on the BBC website, though as it requires us to find the documentary funding, we are also searching for other broadcast options.
Communications/PR
An integrated app and website – http://www.BreakingtheCycle.tv – will enable followers to engage with the expedition as it happens with live tracking, educational resources, expedition and sponsor information.
A professional communications/PR manager will be employed to seek and coordinate engagements with mainstream and social media, press conferences, advertisements, etc.
Kate and her team will look to secure a broadcast media partner to cover the expedition as it happens in the mainstream networks.
Sponsors to date
So far include: Dimension Data, Australian Geographic, World Expeditions, Aldersley Capital, Mont Australia, Christini Technologies, Wilderness Wear, Ibis Cycles, VEE Tire Company, 45NRTH, HED Cycling, Hilleberg Tents, Revelate Designs, Ride Mechanic and several private sponsors.
Kate is still looking for principal partner(s) to secure the $800K (£430K) expedition budget.
Breaking the Cycle Foundation
The Breaking the Cycle Foundation will perpetuate the values of Kate's expeditions, not just for her African and Antarctic ventures, but also for future projects.
To begin with, the Foundation will bring together Kate's primary motives for Breaking the Cycle South Pole; to raise funds for community development initiatives and awareness of the poverty-related issues she learned so much about during her previous Breaking the Cycle in Africa expedition and to contribute toward developing the next generation of leaders.
The Breaking the Cycle Foundation is in development, but it is intended that it be up and running towards the end of 2016, before the start of the Breaking the Cycle South Pole expedition.
Featured in this Post
Comments