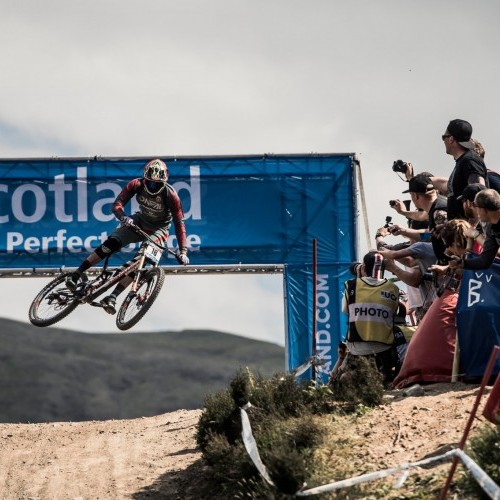 Fort William UCI MTB World Cup
Mon 6th Jun, 2016 @ 12:30 pm
Win a Pair of Faceplant Sunglasses this issue in our FREE subscriber prize draw.
It was an emotional and entertaining weekend up in Fort William, Scotland at the weekend as the mountain biking community turned out in huge numbers to celebrate the life of Steve Smith and welcome Steve Peat to this hallowed ground one last time as a competitive racer. Greg Minnaar and Rachel Atherton both turned out imperious performances to take the win, whilst the DH faithful were treated to incredible rides from Manon Carpenter, Danny Hart, Aaron Gwin and Tracey Hannah.
The slopes of Aonach Mor have witnessed some eventful races over the last 15 years but few will have been hotter or more dramatic than the 2016 installment.
In the women's race, Britain Rachel Atherton put a crash in qualifying behind her to take what in the end was a convincing win ahead of Australia's Tracey Hannah and Manon Carpenter. Carpenter was fast and looked set to challenge her compatriot before a crash which saw her leave the track reduced her efforts to crisis management and she admitted to being relieved to walk away with the points for third place.
In the men's race emotions ran high. This was the first UCI World Cup since the tragic death of 2013 winner, Stevie Smith, in a motorcycle accident near his home in Canada. The riders had already completed a memorial train down the track earlier in the weekend and what would have been Stevie's start position was marked with an empty track before a rapturous reception of remembrance and appreciation at the finish arena from the Scottish crowd.
The only rider to have raced every installment of the Fort William race, including a win in 2005, bowed out for the final time. This was Steve Peat's farewell appearance at the event and resplendent in full tartan aboard a custom-painted Santa Cruz bike, he arrived at the finish arena bristling with electricity. Complete with a crown and his own pub near the finish area, Peaty celebrated as only he can with his fans.
But it was his teammate, South African Greg Minnaar, who would quickly steal the spotlight. The rider who boasts the most UCI World Cup wins in history looked almost certain to have stolen his 19th via a run which bordered on genius. One by one, the splits tumbled, each taking it in turn to light up green and bring with it the realization of just how fast Minnaar was going. He crossed the line and went directly to the hot seat after an early season marred with difficulties and indifferent results.
#LongLiveChainsaw #WeAreLegend
Featured in this Post
Comments