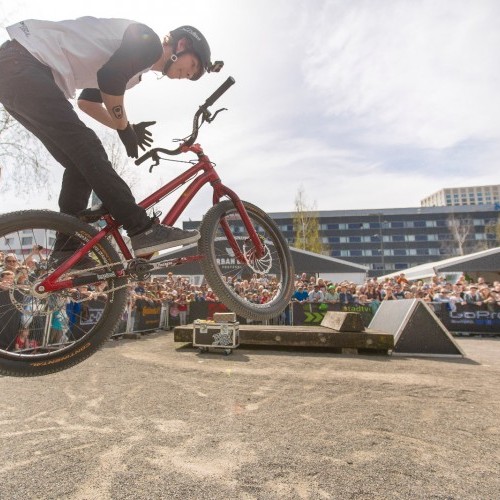 Danny MacAskill And Drop And Roll Team At Ride London
Tue 26th Jul, 2016 @ 6:30 pm
Trials legend Danny MacAskill and his Drop and Roll team will be heading to London this upcoming weekend to present their wildest tricks and unfathomable skills to thousands of spectators at Prudential RideLondon. With over 100,000 cyclists and an even greater number of spectators to be expected during the festival days, the Drop and Roll crew is looking forward to record-breaking crowds.
Prudential RideLondon is an annual three-day festival, which takes place in England's capital. This world-class festival of cycling will be held for the fourth time since 2013 and will be celebrating the passion for two-wheels this year from July 29th to 31st. Drop and Roll Tour partner Continental will be bringing Danny MacAskill, Duncan Shaw, Ali C and Fabio Wibmer to what may well be their biggest show ever. "It's always so rad, when big crowds come to our shows. It motivates us immensely! But I will certainly be a bit more nervous than usual", admits Fabio Wibmer, the youngest of the group.
The four trials greats will kick-off their performances on Friday at the "Lee Valley VeloPark" located in Queen Elizabeth Olympic Park. Fans can look forward to backflips, bunny hops of the highest level and many more tricks, which will test the grip of the guys' Continental trials tyres during the shows at 2.00pm and 8.00pm. Between both shows everyone has the opportunity to get up close to the crew and collect autographs during the signing sessions, which take place from 3.30pm to 4pm and again from 6.30pm to 7pm.
On Saturday the Drop and Roll team will be showing-off their tricks during shows at 11.00am, 1.00pm and 3.00pm on the South Bank. There will be half-hour signing sessions after each show for all the kids, who missed out on Saturday. "We have been in London before, but we have never done a show in central London. It will be awesome to be riding with the London eye as a backdrop," says Duncan Shaw. The loudest fans will surely be rewarded not only by the wildest of trick combinations, but also with a great number of prizes such as Five Ten Shoes and T-shirts, full sets of Magura Disc Brakes, Muc-Off Bike Cleaner, custom Drop and Roll Lezyne multi tools and pumps that aren't available in shops, Continental trials and mountain bike tyres, and GoPro cameras.
If you miss the shows in London this weekend, then make sure to take a look at the upcoming tour dates in August.
Booking requests for Drop and Roll shows are still happily received via the email address dropandroll@rasoulution.com.
Upcoming Dates Drop and Roll Tour 2016*
JUL 29-30 Prudential RideLondon Festival, London (GBR)
AUG 05-06 Belladrum Festival, Inverness (GBR)
AUG 13-14 Red Bull Air Race, Ascot (GBR)
AUG 20 Portavadie Marina, Portavadie (GBR)
AUG 27-28 Bikefestival Basel, Basel (SUI)
SEP 03-04 Eurobike Festival Days, Friedrichshafen (GER)
*more events will be added throughout the season
Important Links:
Youtube: http://bit.ly/dropandroll_tv
Facebook: http://www.facebook.com/dropandrollteam
Twitter: http://www.twitter.com/dropandrolltour
Instagram: @Dropandrolltour
Hashtag: #thisisdropandroll
Featured in this Post
Comments