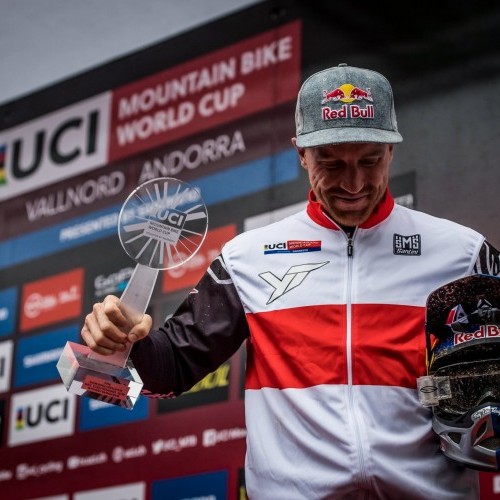 Atherton's Perfect Season & Gwin's Win – Vallnord 2016
Sun 4th Sep, 2016 @ 6:30 pm
Britain's Rachel Atherton and the USA's Aaron Gwin have each claimed their UCI World Cup winner trophies at the series' final round set in stunning Andorra, high in the Pyrenees.
For Atherton, she had the security of knowing that, after an undefeated season, the title was already in the bag. But Rachel is a dyed-in-the-wool competitor and a record breaking 'perfect' season was still up for grabs.
"What just happened??!!! I cannot believe that I have had "a perfect season"!! Winning every World Cup in 2016 with a win today is nuts!"

– Rachel Atherton via Twitter
The Trek Factory Racing rider had work to do having qualified behind Australia's Tracey Hannah and the fastest woman on the hill, Frenchwoman Myriam Nicole.
Nicole was roared on by a packed partisan crowd thanks to her Commencal Riding Addiction team's headquarters being just minutes from the bottom of the track.
Atherton claimed the hot seat with a scorching 4:52.783 time, considerably improving on her qualifying effort.
Ultimately, it proved too much for the chasing pair of Hannah and Nicole who would claim second and third respectively amidst the dust bowl that was the Vallnord track.
In the men's race, French youngster Alexandre Fayolle set the early pace with a time of 4:18.933. His hold on the lead seemed to increase in stature as ominous rain drops began to fall.
Britain's Danny Hart was still in with a shout of the title thanks to back-to-back wins at the previous two rounds and, as the rain fell, he sat aboard his warm-up bike atop the track grinning.
But it was a big ask with Aaron Gwin 200 points ahead after qualifying with the same amount available for a win. If Danny won, Aaron would need to get down inside the top 80 to claim a point that would secure the title.
It was desperate stuff but, yet again this season, Hart defied belief. South African Greg Minnaar had boxed clever on his way to the then fastest time but as the rain fell, Hart set about his split times with a cleaver. This was vintage Danny Hart and he stood motionless in the finish area, aghast at what he'd just pulled off.
Gwin left the start hut, a racer to his bones, intent on giving the ever-greasier Andorra track all he had but backed off when he realised that it was just too dangerous considering what was up for grabs.
He crossed the line in 55th but it was still a case of 'job done'; the UCI World Cup title was his.
Hart secured a remarkable three in a row when the fastest qualifier, Australia's Troy Brosnan, crossed the line in 20th. It was a result which was dramatically at odds with what has been a superb season for him.
Featured in this Post
Comments