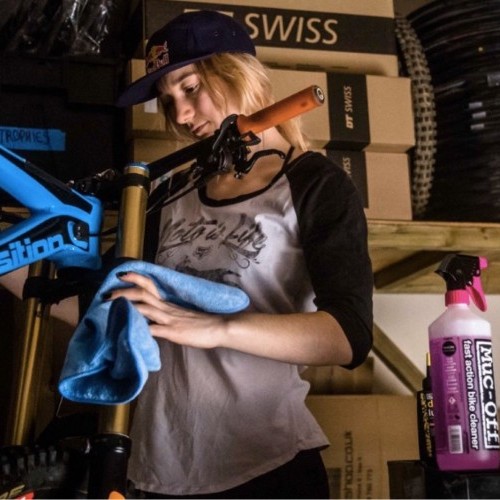 Getting Filthy With FMD Racing 2017 // Muc-Off
Sun 19th Feb, 2017 @ 12:30 am
Dirty boys and filthy girls go out to play in the mud on bikes! Muc-Off, the bike care specialist brand, and FMD Racing, the international downhill mountain bike team, today announce their partnership for the 2017 UCI World Cup Series season.
Professional riders Tahnee Seagrave, Kaos Seagrave and Joe Parfitt will all benefit from the Poole-based company's wide range of bicycle maintenance products, including its pink Nano Tech Bike Cleaner, Bike Protect and C3 Ceramic lubricants.
With a long history of sponsoring mountain bike athletes and teams, it was a natural decision for Muc-Off to look at partnering with emerging talent that is taking the world by storm.
"We are super excited to be sponsoring FMD Racing this year. The guys are having a meteoric rise to the very top of the downhill scene and it's great that they'll be using Muc-Off all along the way. We'll be working closely with Tahnee, Kaos, Joe and Tony over the next 12 months to make sure their bikes are ready for any challenge thrown at them."

– Elliot Withers, Athlete Manager at Muc-Off
21-year-old Tahnee Seagrave, who rides a Transition TR500, will be hoping to build on her impressive record from 2016, which saw her finish 2nd in three UCI World Cup races behind the formidable Rachel Atherton.
"I could not be happier. Since the early days of running X-Lite the guys at Muc-Off have provided innovative solutions for the cycling industry. A young team racing across the globe knowing they are clean, protected and lubricated by the best is just what the doctor ordered."

– Tony Seagrave, Team Manager of FMD Racing
Formed in 2009, FMD Racing began international racing in 2012 and has since taken home three junior World Cup wins, a junior WC overall title and a Junior World Championship Gold.
Muc-Off also currently sponsor other mountain bike athletes such as Trek Factory Racing, Danny MacAskill and Canyon Factory Downhill.
Featured in this Post
Comments