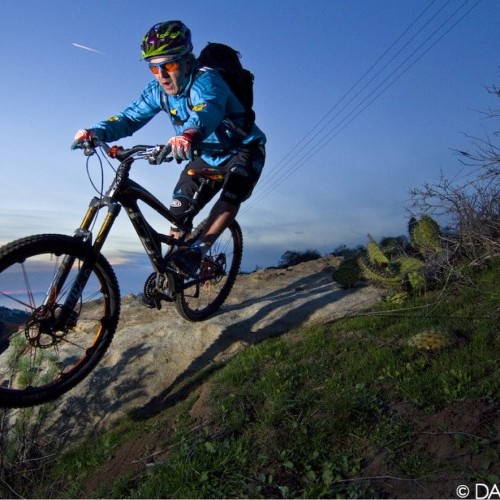 Mountain Biking Legend Hans Rey Tours Riding Life
Mon 4th Sep, 2017 @ 9:30 am
Hans 'No Way' Rey is a pioneer of extreme Mountain Biking and Trials riding, considered by many to be the original 'Freerider'. A former Trials World Champion, inducted into the Mountain Bike Hall of Fame in 1999 and renowned for his incredible bike displays – including his jump over a car on an LA freeway – Hans is one of the best-known mountain bikers both inside and outside of the sport, having performed in front of 3.5 billion viewers worldwide as part of an extreme sports act during the 1996 Olympic Games closing ceremony.
Since retiring from racing in 1997, Hans formed the 'Hans Rey Adventure Team' – which involves a vast range of mountain biking adventures, from biking across Iceland with British Downhill legend Steve Peat, to completing the first bike descent of Mount Kenya – and now Hans brings his amazing stories from his 30-year career on two wheels, to stages across the UK as he tours his debut 'audience with…' style show, Riding Life, to 11 UK theatres, from Horsham to Inverness, presented by adrenaline-activity speakers specialists, Speakers from the Edge, and in association with GT Bicycles and Deuter backpacks
Rey's 'No Way' moniker comes from all the times he said he would try a particularly insane stunt to be told "no way" by other riders, before completing it. As a result, Hans is one of the leading figures to have helped propel mountain biking from the niche sport it was in the 1980s to the major activity millions now enjoy across the globe, and is named first as a major inspiration to the likes of Danny MacAskill.
In Riding Life, Hans will tell his fascinating stories on a personal level, taking audiences on an inspiring journey through his life, showing some of the best trails and riding destinations worldwide. Covering his early riding days in Germany, the mountain bike boom in America, his extreme biking feats, awesome adventures – which include riding the Indian Himalayas, the Alps and Inca Trails, and traversing the Sinai Desert – and how his charity Wheels4Life is changing the world one bike at a time. Hans will also offer his vision for the future of the sport and what keeps him motivated
Riding Life is touring UK theatres, from Wednesday 1 November, to Saturday, 25 November. To book tickets, or for further details, visit http://www.speakersfromtheedge.com
Featured in this Post
Comments