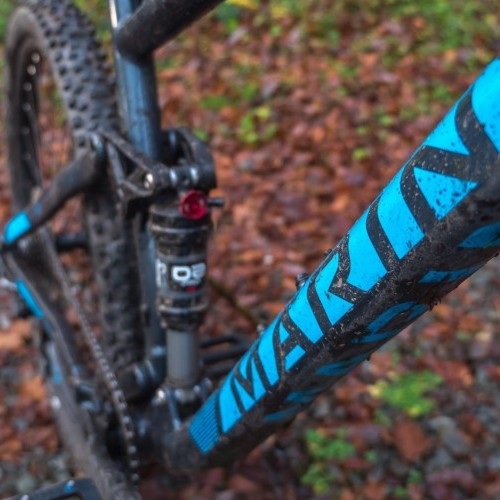 Five of the Best Trail Bikes of 2017
Sat 18th Nov, 2017 @ 9:30 am
Despite the dawn of so many new categories of bike, so much new technology, an entire universe-worth of wheel sizes and tyre dimensions – plus more 'international standards' than you an shake a big stick at – it's still the humble trail bike that we come back to when we just want to get out for a blast with our mates. Trail bikes are the constant in our life. A trusty, dependable trail partner with the legs to tackle almost any climb and the tenacity to help you get back down again in one piece.
To this end, we're celebrating five of the best trail bikes to pass through the IMB test office in 2017. Price and spec sheets have gone out the window in favour of an outright fun ranking, so in no particular order here are our picks of the bunch for 2017:
Pivot Cycles Mach 5.5
The Firebird is a very big travel machine, and the Switchblade's personality is just a little highly strung. The 5.5 flatters both your fitness and your technical finesse in equal measure and only comes unstuck if you go full enduro and hunt out the steepest and roughest terrain. The mix matched suspension, the 2.6 tyres and the phenomenal wheels add together to make it hard to argue that this is not a quintessential trail bike.
Rose Bikes Root Miller 3
Trail bikes have taken a back seat to the overwhelming dominance of 'enduro', but this is a prime example of a trail bike done well. Fast handling, efficient pedalling and confidence inspiring geometry. The Root Miller does everything you could ask of a trail bike, plus a bit more. It's not the most playful bike out there and nor does it pretend to be, but as a one-bike-to-rule-them-all solution, it offers speed mile-munching and confidence by the bucket load.
Orange Mountain Bikes Four RS
For those in 'the know,' an Orange bike is a great bike, but the Four is truly an excellent bike. It requires plenty of rider input and skill to get the best from it, but the rewards are fantastic, capable of turning its hand at anything. The single pivot has some limitations in braking, but keep off the brakes and on the gas and it won't let you down. Forget what you thought you knew about suspension, the single pivot is alive, kicking and disappearing down the trail.
Marin Bikes Hawk Hill
What a great bike! The Hawkhill has endeared itself to me as a bike with a strong, no-frills personality, not overly produced with carbon and media hype. Just a bike to get people out riding, and riding hard too, not just a dumbed down trail bike for beginners who know nothing better. The trickle down is in full flow, and one by drivetrains, air suspension, decent geometry and proper cockpits should not just be the preserve of the mountain bike elite. Sure it's not perfect, but its a £1200 full suspension mountain bike, what do you want? The moon on a stick?
Specialized Bicycles Stumpjumper FSR Comp 29
In a world of multiple bargainous mail order bike options the Stumpjumper FSR Comp 29 is exceedingly good value for money. But it's not just the monetary value that shouts volumes about this bike; it's the ride factor, the huge grin it kept putting on our faces and its ability to elicit a series of small yelps of excitement each time it was pinned through a succession of tight berms or boosted off a drop. Incredible straight line speed and an ability to hold its line over moderately rough ground is just one more feather in its cap.
Featured in this Post
Comments