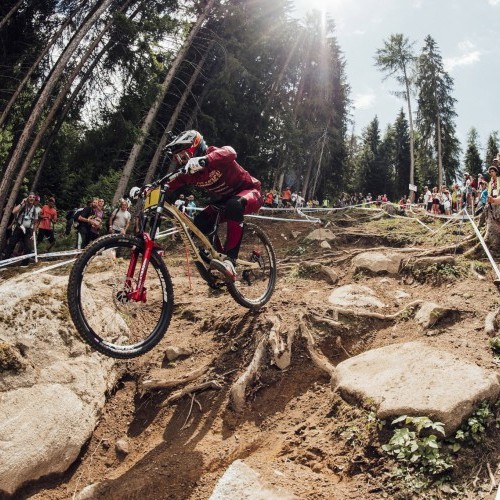 Pierron and Seagrave Clinch Classic Wins on 'Toughest' Downhill Track
Mon 9th Jul, 2018 @ 12:30 am
France's Amaury Pierron and Briton Tahnée Seagrave held their nerve on the UCI Mountain Bike World Cup's toughest downhill track to triumph on Saturday at Val di Sole in Italy.
Pierron produced an extraordinary run to edge out Britain's Laurie Greenland for his third 2018 win in a row, while Seagrave pipped compatriot Rachel Atherton in the women's race. Here is all you need to know:
Val di Sole is well-steeped in downhill mountain bike racing history with the ultimate combination of near-vertical gradient woods sections and all-out, high-speed stretches.
The biggest curve ball the racers faced this week was not even the infamous track, but the weather with timed training and qualifying both wet washouts.
Saturday's track was drier, however reigning women's champion Myriam Nicole was ruled out due to a bruised lower back the Frenchwoman incurred in practice.
2016 champion Atherton put down her marker thanks to a tremendous run with Australian Tracey Hannah failing to beat it, however Seagrave did in gripping fashion.
She edged out Atherton by 0.123 seconds with Slovenian Monika Hrastnik coming down last to grab her first UCI Mountain Bike World Cup podium behind the Brits.
Seagrave, who became the first to win two 2018 races, said: "With five seconds left I could hear I was close and I full on sprinted. I needed that DQ in Leogang to fuel my fire. I need something a little bit extra to make me work a lot harder. Monika sent it down. I was really worried, but I didn't want to let the points go though."
Atherton added: "It is such a wild track. It was pretty dry with big holes. I emptied myself on the top of the track. Pretty gutted, but that is racing."
In the men's race Frenchman Thomas Estaque held the lead for ages before Greenland produced a superb run to take the lead.
American Luca Shaw could not displace him and neither could Briton Danny Hart on the track where he won the 2016 world championship, but Frenchman Pierron is riding on another level currently.
Greenland, who won world silver behind Hart, sat nervously in the hot seat as the lights towards the bottom turned green and then victory for Pierron.
Pierron, who can make history with four debut wins in a row next week at Vallnord in Andorra, revealed: "The track is super demanding physically and technically. This one I wanted and I am so happy. It is going to be sick in Andorra. I can do four in a row."
Greenland added: "I almost went down in the first turn. It made me a little bit angry and I just started sending it down. It was my best World Cup result so far."
Val di Sole women's downhill result:
1. Tahnée Seagrave GBR 4:26.424
2. Rachel Atherton GBR +0.123
3. Monika Hrastnik SLO +1.605
4. Tracey Hannah AUS +3.294
5. Veronika Widmann ITA +9.400
UCI Mountain Bike World Cup women's downhill standings after four out of seven races:
1. Rachel Atherton GBR 776 points
2. Tahnée Seagrave GBR 676
3. Myriam Nicole FRA 610
4. Tracey Hannah AUS 560
5. Monika Hrastnik SLO 496
Val di Sole men's downhill result:
1. Amaury Pierron FRA 3:36.788
2. Laurie Greenland GBR +0.524
3. Danny Hart GBR +0.660
4. Luca Shaw USA +2.248
5. Thomas Estaque FRA +2.466
UCI Mountain Bike World Cup men's downhill standings after four out of seven races:
1. Amaury Pierron FRA 753 points
2. Laurie Greenland GBR 491
3. Troy Brosnan AUS 488
4. Aaron Gwin USA 481
5. Danny Hart GBR 451
Featured in this Post
Comments