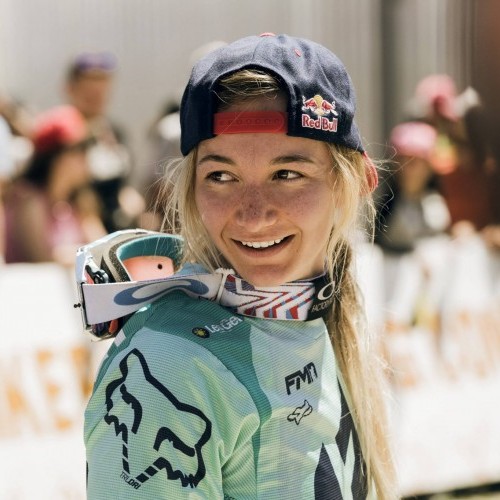 UCI World Cup Downhill – British Battle Between Seagrave and Atherton Continues
Mon 16th Jul, 2018 @ 9:30 am
Britain's Tahnée Seagrave and France's Loris Vergier took the wins at round five of the Mercedes-Benz UCI World Cup in Andorra.
Seagrave, who was victorious at the previous round in Val di Sole and earlier in the year in Fort William, edged out great rival Rachel Atherton while Vergier overcame compatriot Amaury Pierron for a memorable maiden victory.
The women were up first and Seagrave set about improving on a disappointing qualifying performance in which Atherton had devastated her time by a monstrous 14 seconds. The young British rider took the lead and Australian Tracey Hannah, who finished third, couldn't match her pace.
Suddenly all eyes were on Atherton, who was making good inroads to Seagrave's time before a bobble just before the worst of the ultra-steep section sent her off the track. She managed to rescue and remount but it was too late as Seagrave's time clicked past and she had to settle for second.
Seagrave said: "My run wasn't great but it was still pretty solid. I knew if I was going to win, it would be at the bottom and I needed to be really smart. I didn't think it was going to happen as I have never done well in Andorra. I now hope to make it three wins in a row!"
In the men's race, much of the talk surrounded the Frenchman, overall points leader Pierron. Vallnord, the home race of his Commencal team, represented the chance for him to make history. Victory would make him the first man in downhill history to win his first four UCI World Cup races in a row.
Finn Iles was the first rider to take a prolonged stay in the hot seat which even teammate and double World Champ Loïc Bruni couldn't better. He would be rewarded with a fifth place when all was said and done.
But the winner was none other than France's Loris Vergier who claimed his debut UCI World Cup win with a run which verged on the immaculate, leaving Pierron in second. Vergier has clocked no fewer than three second places in his career thus far and has been on the cusp of victory on so many other occasions only to be left on the floor. New Zealand's Brook Macdonald came home a welcome third.
Vergier said: "I cry a lot but I just want to cry for ten years now! All your life you are chasing something, and then all your hard work finally pays off. I am so glad I made it, and so stoked to win. You have to have luck, and put everything together. I can die happy now!"
Vallnord women's downhill result:
1. Tahnée Seagrave GBR 4:49.840
2. Rachel Atherton GBR +4.829
3. Tracey Hannah AUS +8.692
Vallnord men's downhill result:
1. Loris Vergier FRA 4:04.055
2. Amaury Pierron FRA +1.333
3. Brook Macdonald NZL +1.604
Featured in this Post
Comments