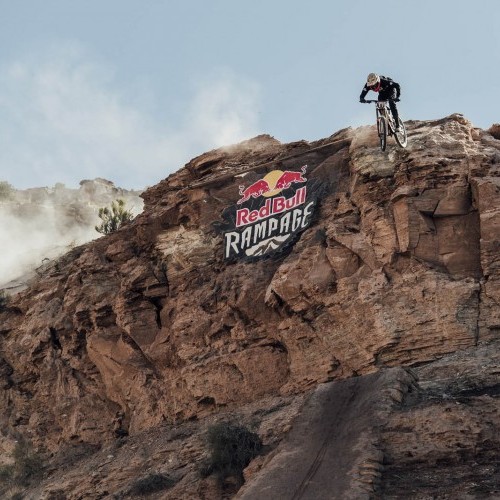 Brett Rheeder Wins His First Red Bull Rampage
Sat 27th Oct, 2018 @ 8:56 am
Win a GO3 Camera by Insta360 this issue in our FREE subscriber prize draw.
Athletes from around the world competed at a new venue, Brett Rheeder won his first Red Bull Rampage, while Van Steenbergen stomped the biggest backflip in event history. It was bigger, louder, faster and more insane than ever before… and it was beautiful to watch. Get all the results and awards details right here:
Sixth time was the charm for Canadian Brett Rheeder who came out on top today at the 2018 edition of Red Bull Rampage.  Winning freeride titles is not a first for Rheeder, but taking the win at freeride mountain biking's biggest event is. Ontario, Canada's Rheeder landed the heaviest hitting run of the day with his first run down the hill. Andreu Lacondeguy grabbed second place and his third podium in Red Bull Rampage history, and Utah-native Ethan Nell took third for the second consecutive year in only his second Red Bull Rampage appearance.
"This is my sixth time competing at Red Bull Rampage and my first three years were tough. I was way out of my element and it took a long time to finally be a contender for the title and it feels unreal."

– Brett Rheeder
Nineteen of the world's top freeriders participated in the 13th edition of the most legendary freeride mountain biking competition on earth. This year, thousands of fans from around the world tuned in to watch the action LIVE on Red Bull TV and for the very first time, had the opportunity to explore the venue through the latest augmented reality technology via a 3D model of the mountain on the Red Bull TV app.
The new Red Bull Rampage zone challenged the riders and their teams of diggers to a race against the clock to prepare their lines in time for competition. Each rider brought along two diggers and worked over the course of two weeks to prepare their lines down the newly selected venue. Ahead of the big day, only a handful of riders had managed to ride each feature in their runs, leaving tensions high as riders took to the start gate.
"I knew I had to change something with my line and my riding, I felt good since day one and my team killed it. I just had fun and had an awesome time and at the end that is what makes the riding good. Hopefully I can step it up next year."

– Andreu Lacondeguy
The day didn't come without struggles for Rheeder who admitted he was "feeling a little bit low in spirit" coming out of a hard crash practice before finals. Luckily Rheeder's unwavering determination outweighed any pre-jitters the second he dropped onto the mountain throwing down a title worthy first run.
"This is my sixth time competing at Red Bull Rampage and my first three years at Red Bull Rampage were tough," said Rheeder. "I was way out of my element and it took a long time to finally be a contender for the title and it feels unreal."
Red Bull Rampage 2018 Final Results
Brett Rheeder (CAN) – 89.66
Andreu Lacondeguy (SPN) – 87.33
Ethan Nell (USA) –  86.33
Tom van Steenbergen (CAN) – 84.66
Thomas Genon (BEL) -83.33
Tyler McCaul (USA) – 82
Kyle Strait (USA) – 80.33
Szymon Godziek (POL) – 75
Kurt Sorge (CAN) – 74
Brendan Fairclough (GBR) – 67.66
Adolf Silva (ESP) – 64.33
Vincent Tupin (FRA) – 63.00
Reed Boggs (USA) – 59.66
Rémy Métailler (FRA) – 55.66
Graham Agassiz (CAN) – 50.00
Brandon Semenuk (CAN) – 36.00
DJ Brandt (USA) – 33.33
Carson Storch (USA) – 0.00
Jordie Lunn (CAN) – 0.00
People's Choice Presented by Utah Sports Commission
Thousands of fans voted online throughout the live Red Bull TV broadcast to determine the athlete that would take home the People's Choice Award presented by Utah Sports Commission. Taking part in his very first Red Bull Rampage, Adolf Silva, took home the People's Choice Award winning fans over with his energy and speed throughout the competition.
Best Trick Award Presented by Maverick
The best of the best tricks are displayed at Red Bull Rampage year after year, but this year, the Best Trick Award was a relatively easy decision. In his first run, Tom Van Steenbergen pulled off a massive flat drop backflip that set the bar for the rest of the competition and brought the entire venue of over 3000 screaming fans to their feet.
Kelly McGarry Spirit Award Chosen by the Athletes
To commemorate the life of mountain biking legend Kelly McGarry, the participating athletes named Brendon Fairclough as this year's recipient of the Kelly McGarry Spirit Award. The criteria for the vote was to select the peer they thought most embodied McGarry's spirit.
Featured in this Post
Comments