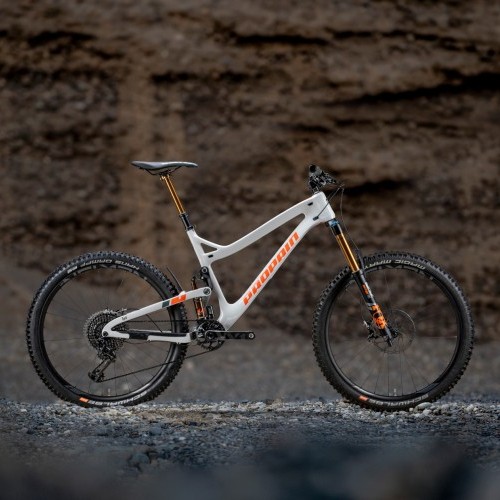 Propain Tyee Carbon & Tyee AM Carbon 2019
Sun 14th Oct, 2018 @ 9:30 pm
The Tyee (Native American for Chief) presents itself in a new guise. Various changes on the Tyee promise to make the Tyee an even greater and more reliable ride than ever before. Big words for a bike that has won several awards and magazine tests. Have Propain been successful in improving things for the all carbon Tyee Enduro and Trail bikes?
At first glimpse not much has changed for the Tyee Carbon Enduro and Trail bikes. But the inner values are the ones that really matter and beside some design details this is where most of the changes are hidden. Typically for Propain the frame was gradually improved and modernized. The new Tyee now features a new modern geometry, bigger bearings with additional dust cap seals, a new downtube protector and mud fender, and more clearance for additional shock options.
New Features at a glance
New Geometry with a longer reach, a steeper seat angle and a slacker head angle
Propain Dirt Shield – double sealed bearing system
Smaller bearings have been increased in size to increase durability and reduce maintenance
Good bye front derailleur mount
Re-designed and front and rear triangle featuring increased strength and stiffness
New linkage layout with more progression for an improved suspension performance and compatibility with coil shocks
New downtube protector
Larger shock mud guard is keeping the shock nice and clean
New vinyl stickers in various new colours providing more options than ever before
Classification in category 5 with full Bikepark approval
"For the last 3 years as Propain Downhill World Cup team manager the Tyee has been my main bike for getting off the laptop and sneaking in a quick session with my mates. With not riding so much 'out and out DH' I pretty much ride my Tyee for everything from blasting round my local trails to light DH runs! The 2019 Tyee feels even more capable with its slightly more aggressive geometry and improved suspension layout making it handle even better on the descents. For a bike that is so set in its tracks, I can't get my head around how playful and easy to throw around it is. It weighs nothing and goes up the climbs like a rocket!"

– Ben Reid, former WC Racer, Team Manager and Ambassador
New Features in Detail
Seat angle
The seat angle was increased to 76° for a more ergonomic climbing position and a more centred weight distribution bringing the rider in the right position to be ready to attack any time.
Reach & Head angle
The Tyee Carbon 2019 features an improved modern front triangle geometry with a longer reach and a slacker head angle (65°) improving both climbing and downhill capabilities.
Lower BB
The bottom bracket was lowered to improve handling, stability and the feeling of sitting "in" the bike.
Shock compatibility
A downside of the previous version of the Tyee was the limited compatibility with different shocks. The original design was intended for air shocks only and limited riders in their choice of shocks. The Tyee Carbon 2019 has more progressive suspension layout and enough clearance to fit coil shocks and therefore features a massively improved downhill performance.
Among others, these shocks will fit the Tyee Carbon 2019:
Rock Shox – Deluxe / Super Deluxe / several versions of Super Deluxe Coil
FOX – Float / Float DPX2
Cane Creek – Double Barrel / Inline
Shock leverage ratio
The total progression of the shock leverage ratio is increased from 15% to 30% to make sure the kinematics are suited to the more linear behaviour of coil shocks which are now compatible with the Tyee frame. The change in the kinematics also resulted in increased beginning stroke sensitivity, improved mid stroke support and increased bottom out resistance.
Anti-squat
The anti-squat of the original Tyee was set to around 75% in the climb gears. Shifting down at higher speeds resulted in gradually less anti-squat but increased suspension performance which gets increasingly important with higher speeds. It proved to be a great suspension setup providing both climbing efficiency and class leading high-speed traction.
Due to the higher sensitivity of coil shocks the anti-squat of the new Tyee was increased by about 10% to make sure no squatting occurs during climbing.
New improved Production method
For the Tyee Carbon 2019 a new improved process was introduced which limits the movements of the carbon layers during the forming process and uses a higher process pressure. As a result, the carbon layers are not dragged along by movements of the foam during the forming process but are able to slide on the foam core and stay in position. This leads to better fibre orientation and improved strength with smaller variations. The higher process pressure further strengthens the adhesive connections between the layers of carbon and therefore reduces variations in strength. Overall the quality, strength and stiffness of the frames could be improved.
New design concept
Propain has put a lot of thought into their new design concept which is featured on the complete 2019 Tyee Carbon lineup. A perfectly matching portfolio of frame decals and components offers almost endless color combination when combined with the three different frame colors. Heavy duty Vinyl stickers now provide for better quality and durability than ever before. Another big advantage of this concept is that all design elements such as decals and components can be changed afterwards in case you decide that it's time for a change.
Specs
Tyee Carbon
As with all current models Propain gives their customers full control over how they want to build their new bike. Propain only provides feature recommendations from entry level through to highend parts enabling customers to change all parts to their liking. Pricing sees the Tyee Carbon ranging between €3.000 and €6.455.
Tyee AM Carbon
The chief's "little brother" is a trail bike with Enduro gens. Some bike magazines that have tested this bike in the past have therefore named it Trailduro. But it's not there to define a new bike category, it's simply a playful trail bike that is not scared of some serious downhill action. The Tyee AM is also offered in three different pre-configured builds that can be further adapted to your needs. Prices range from 3.000€ for the entry level model and 6.300 € for the high-end one.
The Tyee Carbon and the Tyee AM Carbon are now available from the Propain online shop.
Geometry
Featured in this Post
Comments