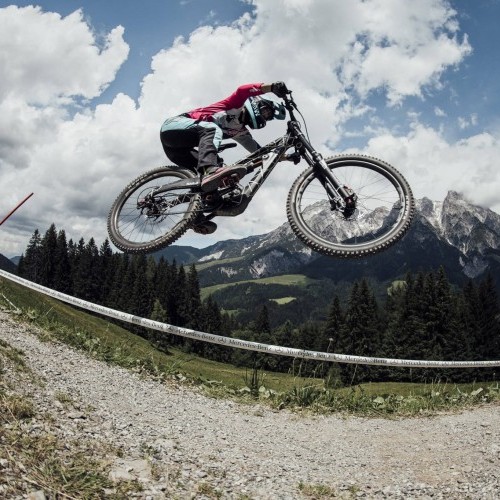 Rachel Atherton Looking To Consolidate Early Lead In 2019 Downhill World Cup Season
Sat 8th Jun, 2019 @ 3:30 am
Rachel Atherton Looking To Consolidate Early Lead In 2019 Downhill World Cup Season
Fresh off a victory on home soil Brit and World Downhill Mountain Bike Champion Rachel Atherton, is looking to consolidate top spot in the 2020 UCI World Cup season rankings at this weekend's race in Leogang.
The Red Bull athlete who won the women's elite race by 1.61 seconds at Fort William, has the chance to defend her crown in Austria after she topped the podium in the same race last year. With compatriot Tahnee Seagrave out for the immediate future after a nasty crash in Scotland that required shoulder surgery, the Red Bull athlete can extend her lead in the overall standings. Rachel Atherton has 430 points from two races, while Australian Tracey Hannah is the closest behind with 400.
Red Bull athlete Gee Atherton will be hoping to use Leogang's wide, hardpack straights to kickstart his Downhill season in the men's elite category. The former World Champion has enjoyed plenty of podium finishes in Austria throughout his career.
On the fastest downhill track of the tour, there will be plenty of thrills when qualifying in the elite women's category begins at 12:30 (GMT) on Saturday 8th of June, with men's following at 13:00. The elite finals begins at 11:30 on Sunday 9th of June, with the action streamed live on Red Bull TV.
Featured in this Post
Comments