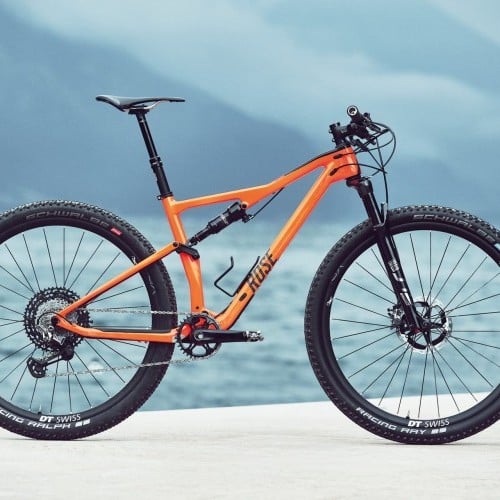 Rose Bikes | Thrill Hill Makes Cross Country Fun Again
Tue 3rd Sep, 2019 @ 3:30 pm
With the Thrill Hill, Rose Bikes launches a new full-suspension race bike that is designed for agility and speed down to the last carbon fibre. The new platform is a pure interpretation of cross county riding and promises maximum riding enjoyment – even on technically challenging terrain! Apart from an MTB race version with 100 mm of travel, Rose Bikes will offer a build with a 120 mm suspension fork for more reserves in autumn.
The top-of-the-range Thrill Hill model weighs in at only 10 kilograms and flies up hills with ease. A flat steering angle and a long reach provide great control on descents. The Inline Suspension Design ensures responsive rear suspension and a sleek, aesthetic look. Of course, the Thrill Hill benefits from established XC racing standards like 29in wheels and a wide Boost axle standard.
The carbon frame weighs a mere 1800 grams and impresses with clean, minimalist design. Internal cable routing reduces visible cables and hoses to a minimum. Another highlight is a flex in the seat stays. This eliminates the need for an additional joint, which saves weight and maintenance efforts. All existing joints use durable Enduro ball bearings.
With a reach of 430 mm (size M/100mm travel) and a head tube angle of 69,5° with a 100mm suspension fork and 68° with a 120mm fork, the bike has a moderate geometry. So the Thrill Hill promises balanced handling and high safety from the first pedal stroke. The kinematics of the full-suspension race bike are compatible with single and double chainring setups, and four cable ports offer various cable routing options for individual dropper and suspension remote adjustments. So Rose Bikes customers can decide for themselves which gear ratio and setup suits them best.
Just in time for the official sales launch on 3. September 2019, the Thrill Hill will be available in eight different build kits in size S, M and L starting at 2599 euros. For more information visit http://www.rosebikes.com/thrillhill
Featured in this Post
Comments