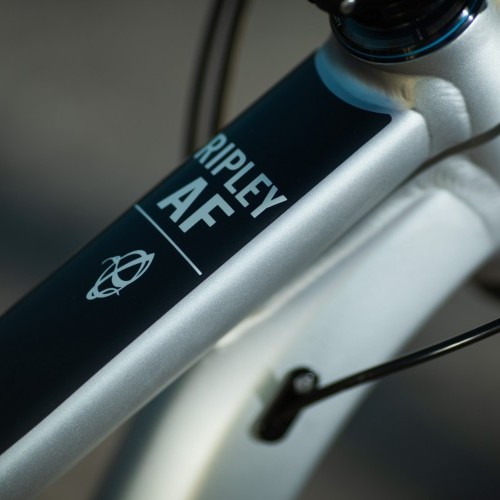 Ibis Introduce The New Ripley AF | Maintaining Metal Momentum
Thu 21st Jan, 2021 @ 6:30 pm
Want a short-travel but still fun and playful bike, better still without breaking the bank too? Then look no further than the latest model to roll out from Ibis, their new Ripley AF. Key features of the Ripley AF over it's more expensive carbon fibre bigger brother other than frame material, (the AF is aluminium to help keep the price down) are the fact that the geo is slightly tweaked too, with the head angle slackening out a further 1 degree to 65.5 degrees. The best bit? Full builds start from $2999.99 for the Deore spec model you see in the pictures… Full press release below:
The Ripley AF is our beloved, category-defying, short-travel, singletrack-scorching Ripley—rendered in aluminum and with a touch more aggressive geometry. All the sizzle and pop of the carbon Ripley is now available as a complete bike at a wallet friendly, sub $3000. This bike is a multi-talented shapeshifter; a light, snappy, fast, fun, incredibly versatile bike that can get a whole heckuvalot more rad than its 120mm travel and gossamer weight implies. And making it out of aluminum only broadens the Ripley's already broad appeal. It still rips like a Ripley. But it also costs a whole lot less than the carbon version, and is, well, more metal!
A trail-friendly 65.5-degree head angle (that's a degree slacker than the carbon version) and short (44mm) offset 130mm fork combined with 29" wheels makes for a super planted but still playful, precise but still nimble front end feel. Meanwhile, a 76-degree seat angle puts your power directly to the pedals, and the short chainstays and pedal-friendly dw-link kinematics deliver that power without squandering a single watt.

Price point accessibility is no reason to skimp on the details. So, in order to quell your concerns while still respecting your wallet, we've sweated the details to the fullest of our capabilities. Boost spacing. Threaded BB and ISCG 05 compatibility. 2.6" tire clearance. Post-mount rear brake, 203mm rotor clearance. Super low standover, long-dropper friendly design. Seven-year frame warranty and lifetime bushing replacement. Metric 190x45mm shock, and room inside the front triangle for a water bottle. Cha-ching!
Featured in this Post
Comments