Locked or unlocked, when it matters: The intelligent eLECT module from MAGURA senses the riding situation, second by second, meter for meter. Due to the effectiveness of the 3D-acceleration sensor any changes to the inclination or impacts are immediately registered.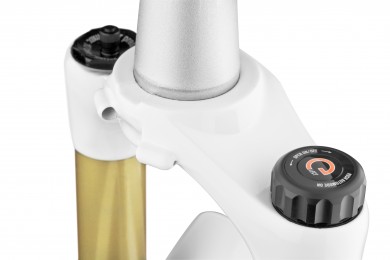 With the electronic ON-OFF and blow-off function in DLO² (Dynamic Lock Out) the new system is in a position to adjust the fork to a suitable mode for any given situation. At 93g total weight the new system manages to weigh in 15g lower than the mechanical DLO². Naturally the eLECT rider can always chose between automatic and manual modes using the wireless remote – depending on the chosen route and personal preference. Additionally the eLECT can be calibrated – this allows the rider to specify the tilt angle which the system will then use to automatically lock or unlock. One of the system highlights is the ability to detect free-fall – this opens the previously locked fork to allow for a soft landing which will then automatically relock depending on the tilt angle. The rider can concentrate on the trail and prepare for any difficult sections without needing to make any fork adjustments.
The eLECT is perfectly adapted and has been matched for use with all MAGURA TS 8 R and TS6 forks. The wireless remote has been designed to fit directly to all MAGURA MT and HS brake clamps but it is possible to fit with any model if used in conjunction with an additional clamp. The power-on time is 40h in automatic mode and 60h in manual mode which should be more than sufficient for most bike trails. Recharging the eLECT can be easily done through a micro USB-port. Within a few hours the system is fully recharged and the rider is armed for the next trail.
Product Features:
– DLO² with electronic ON-OFF and blow-off
– 15g lighter than the mechanical DLO²
– Automatic or manual mode options can be chosen using the wireless remote
– Remote module with separate clamp or direct mounted on all MT or HS brakes 2/2
– 3D-acceleration sensor registers inclination and impact to enable automatic ON-OFF
– Calibration option – selects the tilt angle desired by the user to unlock the fork
– Free-fall detection – opens the locked fork during flight to facilitate a soft landing
– 40h power-on time in automatic mode – 60h power-on time in manual mode – recharge using a micro USB port
Featured in this Post
Comments