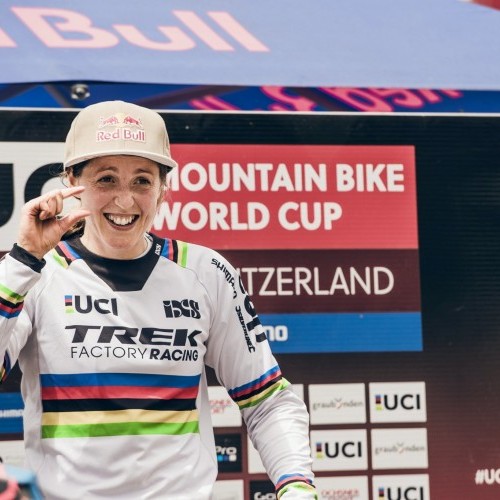 Lenzerheide World Cup 2016 Full Recap
Mon 11th Jul, 2016 @ 3:30 pm
Win a GO3 Camera by Insta360 this issue in our FREE subscriber prize draw.
Great Britain took to the top of both men and women's podiums in Lenzerheide, Switzerland over the weekend.
The UCI World Cup returned to the Swiss town of Lenzerheide for the second time in a row for round five of the 2016 series but two British riders reigned victorious in Rachel Atherton and Danny Hart.
Atherton, fresh off the back of her tenth win in a row at the previous round in Austria, was going to have to do things the hard way however. Her compatriot, Tahnee Seagrave, is a young rider on the march and for the second time this year out-qualified the 2015 UCI World Cup overall and World Champion. All Atherton could do was dig deep and hope that it would be enough from second place. Almost predictably, she set about cleaving first tenths then whole seconds from the then hot seat occupant's time, Frenchwoman Myriam Nicole. Nicole impressed on a return from a collarbone injury sustained pre-season, she would hang on for third. Atherton hadn't removed her helmet before the clock showed that Seagrave already had work to do from split one. She brought it back but it wasn't enough, she ran out of track and finished under a second off the all-conquering Rachel. Atherton seemed to relish the closeness of the racing but will be weary of the threat from Seagrave as we head to round six in Canada.
In the men's race, it was anybody's guess after a mixed bag of a qualifying session. All eyes however were on American Aaron Gwin who started back in fifteenth after a crash on Saturday. The UCI World Cup overall points leader had won in Austria and was clearly in no mood for hanging around. He turned the boards green at every split up on Britain Brendan Fairclough's impressive time. Both Fairclough and 2015 Red Bull Hardline winner Ruaridh Cunningham looked good on track and were able to hold on for eighth and ninth respectively. Gwin celebrated as he crossed the line but then quickly shook his head; searingly fast and loose throughout, he hadn't caught the final turns perfectly and knew it. The same turns had determined the result of the 2015 race having caught out Frenchman Loïc Bruni on his way to a victory over South African Greg Minnaar. Minnaar, a rider who Gwin later admitted to being worried about couldn't match his pace however and would end up third.
Hart took to the course and as the splits turned red he dropped down to third place. Gwin's words were to be proved prophetic however; the gap was still there but rapidly shrinking in size as the MS Racing Mondraker rider rounded the last turns and plunged towards the finish. Crossing the line, Hart scrambled to get his bike stopped as his head spun around trying to find his time and the crowd erupted. After winning the 2011 World Champs title, Hart had kept his fans waiting for his first UCI World Cup win and finally made good on his phenomenal talent.
The UCI World Cup heads to Canada next and one of the most historic hillsides in the sport; Mont Sainte-Anne
Featured in this Post
Comments