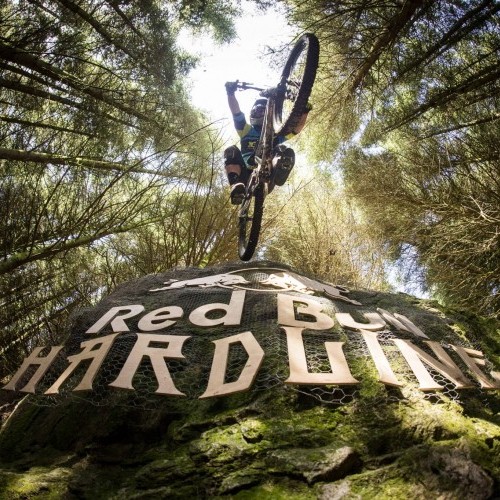 Red Bull Hardline 2018 – Riders Announced
Fri 7th Sep, 2018 @ 9:30 pm
The rider line-up for the 2018 edition of Red Bull Hardline has been revealed, with the largest number of riders in the history of the event due to take part.
Red Bull Hardline, now in its fifth year, returns to the hills of Dyfi Valley in mid Wales on September 15, 2018. So far, 29 of the World's best riders have been confirmed to take on one of the toughest downhill mountain bike races on the planet.
There are 13 British riders included in the field. Last year's winner, Craig Evans, will be racing alongside the 2016 winner Bernard Kerr in what is set to be an epic showdown. Adam Brayton also returns with unfinished business at Red Bull Hardline – in 2017 he qualified fastest but the weather conditions and long technical course were too much to handle causing him to crash out in the final section on the last run of the day. Gee Atherton will also be returning this year following a cracking World Cup season, where he finished 9th overall after the final in La Bresse, where he qualified fastest in the rain.
Young gun Kade Edwards will be making his debut this year and will be one to watch. The 2018 Junior National DH Champion is making a name for himself with his signature style and will be wanting to get some aggressive runs in at his first Red Bull Hardline.
Riders from the world's top downhill teams will be heading to the hills of Wales, including Trek, Canyon, GT, Devinci, Hope, Pivot, MS Mondraker and FMD.
The intense course, built by Dan Atherton, combines tricky technical downhill features with huge freeride-style jumps. Red Bull Hardline tests even the most progressive of riders, with giant slab rolls, tight wooded sections, the iconic road gap jump (with a trajectory of 55 ft) and some new epic jumps which will really test the riders at speed as they enter the final section of the course. The final fly off, which is the biggest jump ever at Red Bull Hardline, will see riders travel 65 ft as they speed towards the finish line. This is the equivalent of four double decker buses….or ten Rob Warners!
Dan Atherton said "In previous years at Red Bull Hardline, a big focus has been on the Road Gap and Step Up and so this year we wanted to change things up to build excitement all the way down. The final field is an amazing natural amphitheatre and so it made sense to use that more.  We've tried to keep the high speed feel of the old finish but we've built three massive jumps all in a line that should give spectators a real feel of how fast the riders are actually going."

Rider line-up
Adam Brayton – GB
Alexandre Fayolle – FRA
Bas Van Steenbergen – CAN
Bernard Kerr – GB
Brage Vestavik – NOR
Brendan Fairclough – GB
Charlie Hatton – GB
Craig Evans – GB
Dan Atherton – GB
Dave McMillan – NZ
Erik Irmish – GER
Flo Payet – FRA
Gatean Vige – FRA
Gee Atherton – GB
Greg Williamson – GB
Henry Fitzgerald – CAN
Jerome Caroli – ITA
Joe Smith – GB
Kade Edwards – GB
Kaos Seagrave – GB
Keegan Wright – NZ
Killian Callaghan – IRL
Laurie Greenland – GB
Lewis  Summers – GB
Matt Walker – NZ
Oscar Harnstrom – SWE
Phil Atwill – GB
Reece Wilson – GB
Thomas Estaque – FRA
For more information please visit redbull.com/hardline and watch the action on Red Bull TV at 6pm UK time on Sunday 16th September. Join the conversation @RedBullUK with the hashtag #RedBullHardline
Featured in this Post
Comments