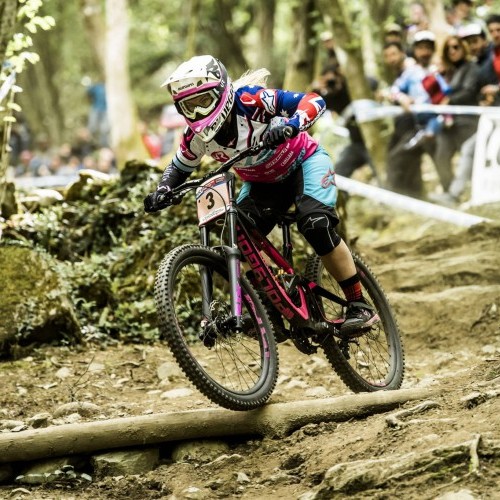 UCI DH World Cup 2019 Final Results: Fort William
Mon 3rd Jun, 2019 @ 12:30 pm
Get up to date on all the results of a flat-out, wet and rocky weekend of UCI DH World Cup racing, where a typically unforgiving Fort William track caused a few upsets in the Scottish weather…
Red Bull athlete and World Champion Rachel Atherton has defied challenging conditions to triumph at the UCI Mountain Bike Downhill World Cup in Fort William.
Finishing P3 in the qualifiers on Saturday, Atherton navigated her way round a deteriorating Aonach Mor course in a time of 5 minutes 15.56 seconds to top the podium ahead of Australian Tracey Hannah of Australia. It is the fourth time Rachel Atherton has won in Scotland, following on from victories in 2013, 2015 and 2016. It is her 38th World Cup win throughout her career
Rachel Atherton said it was a nail-biting time watching Hannah finish her run,
"I couldn't have ridden it any faster than that so I'm absolutely buzzing. A win at Fort William is special enough without doing it on the Atherton bike."
Red Bull athlete Tahnee Seagrave sustained a shoulder injury in practice and pulled out of racing at Fort William. It's is currently unclear when she will return to racing.
Fort William Results
Elite Men
1st. Amaury Pierron: 4:28.578
2nd. Troy Brosnan: +3.582
3rd. Loris Vergier: +3.631
4th. Finn Iles: +7.203
5th. Danny Hart: +7.518
Elite Women
1st. Rachel Atherton: 5:15.560
2nd. Tracey Hannah: +1.611
3rd. Nina Hoffmann: +8.822
4th. Marine Cabirou: +13.374
5th. Veronika Widmann: +15.735
Junior Men
1st. Thibaut Daprela: 4:45.455
2nd. Luke Mumford: +0.869
3rd. Patrick Laffey: +2.153
4th. Luke Meier-Smith: +2.414
5th. Lucas Cruz: +3.670
Junior Women
1st. Anna Newkirk: 5:33.585
2nd. Vali Holl: +3.489
3rd. Mille Johnset: +9.592
4th. Lauryne Chappaz: +1:08.769
5th. Mckenna Merten: +1:35.756
Overall Standings
UCI MTB World Cup women's downhill overall
1. Rachel Atherton GBR 430 points
2. Tracey Hannah AUS 400
3. Marine Cabirou FRA 290
4. Nina Hoffmann GER 285
5. Tahnée Seagrave GBR 230
UCI MTB World Cup men's downhill overall
1. Troy Brosnan AUS 350 points
2. Amaury Pierron FRA 330
3. Loic Bruni FRA 301
4. Danny Hart GBR 292
5. Loris Vergier FRA 215
The Downhill World Cup series continues in Leogang, Austria this coming weekend.
Featured in this Post
Comments