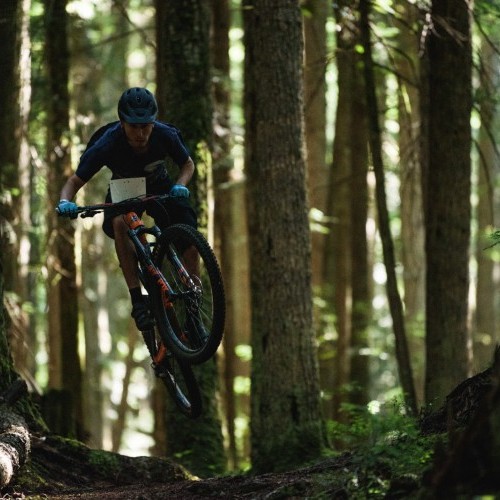 BC Bike Race 2018: Day 5 – Sechelt to Langdale
Thu 12th Jul, 2018 @ 6:30 pm
Yesterday saw the 5th stage of the BC Bike Race, with a glorious 9km stretch of singletrack to end a tough day of riding. Hannah Barnes shares her thoughts on the race and we hear of the trials, tribulations and successes of the riders.
Stage 5 Presented by Shimano: Sechelt to Langdale
Distance: 49km
Climbing: 1403m
Featured Trail: Rio Grande
LANGDALE, BRITISH COLUMBIA July 11, 2018 – Specialized's Hannah Barnes has ridden in stage races from the Andes to southern France. Some are simply a series of soul crushing climbs followed by equally soul crushing gravel road descents. Lumps of coal when you were expecting diamonds. Not the BC Bike Race. Yes the climbs are tough, but at the top of each ascent lies a diamond – a tasty ribbon of singletrack to sink the knobby tires into.
"The days are shorter at BCBR but they're way more fun," said the Fort William, Scotland based Lululemon athlete and first time BCBR participant.
The takeaway? Longer isn't necessarily better. The BCBR team works closely with the host mountain biking communities to ensure that racers sample the best trail in each stage. At the same time, local mountain biking advocates are keen to the show the world the best of BC singletrack. That is the essence of BCBR – the Ultimate Singletrack Experience, and it's the reason the event pumps money back into trail work and maintenance in the towns they visit every year.
It's day 5, the Sechelt to Gibson stage. If this point-to-point was a rainbow, then Route 102 would be the pot of gold at the end. This uninterrupted 9km winding, bermed singletrack slice of deliciousness drops from the final grueling road climb after Aid Station 2 and spits riders into Gibson's Landing and the BC Ferries Langdale terminal. But there was work do first. The morning broke bluebird clear – heat was going to be a factor. Yesterday on the Queen stage, Kabush reasserted his dominance in the battle for yellow, once again claiming the top podium position. In open women's Nash looked untouchable, continuing to put distance on youthful challengers – and tent mates – Kaysee Armstrong and Hannah Finchamp. After a neutral roll-out this morning it was back to business as riders dug in for multiple ups and downs enroute to Aid Station 1.
When the leaders dropped into Health, a mature stretch of trail, with skinnies and bridges that rip through cool cedar and fir forest, it was Kona's Corey Wallace leading with Jeremiah Bishop (Canyon) and Karl Platt (Bulls) giving close chase. Ten seconds later it was Francois Bailly-Maitre and Kabush. Six days ago in North Van, Bishop, a seasoned American XC legend, said he hoped to take at least a stage. Would this be his day? Bishop's happy place is pounding out road and XC climbs but there was plenty of fast singletrack descending at the end of the stage that could play well into the hands of Kabush, Bailly-Maitre and other pro contenders.
When riders deeper in the pack arrived at the fast and flowy Gnome, North Shore hardened riders like Jason Cameron were in their element, popping manuals and airs off the trail's tasty bumps and lumps. He was riding fast and smooth and would go on to claim first place for this stage in solo veteran men's.
However after five back-to-back XC marathons, time on the trail begins to take its toll on others. Scrapes, bruises, blisters and plain old fatigue.
"This stage is usually my high-water mark, but I'm in the pain cave today," said Calgary resident Erik Bakke, as he did battle with the singletrack climb Up n' Over. "My legs and back just didn't recover from yesterday."
But Bakke is a nine-year BCBR veteran. He's no stranger to stage races and knows how to block out the burn of lactic acid and summon that extra resolve when needed.
Felipe Kanacri is learning a thing or two about digging deep. When we met him at racer registration in North Vancouver six days ago, he was full of excitement and anticipation; part of a group of 24 Chileans who registered for the 2018 BCBR. On day 1 in the Cowichan Valley, he came out hard on Mount Tzouhalem and Maple Mountain – maybe a little too hard. Day 2 and 3 he struggled through an upset stomach. During yesterday's endurance-testing Queen stage he was on the mend and today he was getting back where he wanted to be. Today he was strong and stoked.
"I feel like this is going to be my best stage. It's a long race and you learn where your strengths  and weaknesses are" Kanacri said on the road climb to the top of the much anticipated Hwy 102. "I realize that I need to do a little more road riding to build up my power."
By the time the leaders approached Hwy 102, Platt was in the lead with Bishop close behind. The Virginia-based former US Marathon champ shoulder checked and spotted Bailly-Maitre standing out of the saddle and hammering hard on the pedals.
"The road climb is my strength and I wasn't going to let that happen," Bishop said, sensing an attack.
However ripping fast downhill singletrack is a specialty of the French enduro rider. When Bishop dropped into Hwy 102, it wasn't long before Bailly-Maitre reeled him in.
"I gave him a line to pass. He's just a better descender than I am," said Bishop at the finish line, still happy with a third place finish – his best of the week.
Meanwhile among the women, Kaysee Armstrong managed to close the gap on Nash, crossing the finish line less than two minutes behind the Czech five time Olympian (winter and summer) and perennial yellow jersey holder.
And for all the other BC Bike Racers, from 64 year old Quadra Island resident and bike store owner Jack Mar to Colorado software developer Donna Dallas, Hwy 102 was that pot of gold at the end of the rainbow. "Now that was a piece of singletrack!" Dallas said.
Tomorrow BC Bike Racers enter the Holy Grail of mountain biking – Vancouver's North Shore. Two words that are synonymous the world over with steep and technical mountain biking. This 18 km stage, the shortest of the week, is not to be underestimated – it links together some classic North Shore black diamonds and local favorites, it is set to be an exciting contest that will put the power climbing and technical descending skills to the test.
Featured in this Post
Comments