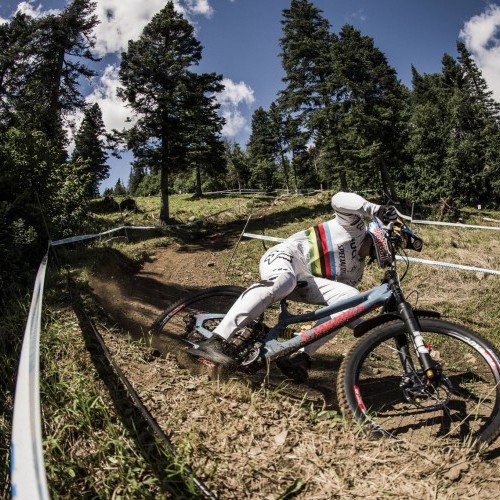 UCI Mountain Bike World Cup – Atherton and Bruni Serve Up Thriller
Tue 14th Aug, 2018 @ 9:30 am
Atherton and Bruni serve up MTB thriller with Mont-Sainte-Anne wins. Pierron seals men's downhill crown as Seagrave keeps women's race alive.
Britain's Rachel Atherton and France's Loïc Bruni claimed thrilling UCI Mountain Bike World Cup downhill victories at the classic Mont-Sainte-Anne round in Canada as Amaury Pierron clinched the men's overall title. Here is all you need to know:
– Mont-Sainte-Anne is a taxing and popular round with Pierron looking for a high finish to improve his chances of wrapping up the men's title in tricky conditions.
– The volatile weather had created big holes in the long, arduous course with 2017 women's champion Myriam Nicole returning from the injury she picked up in Italy.
– She could not get all the way down, however Australian Tracey Hannah managed to cross the finish line with a respectable time despite a drivetrain failure.
– It became a showdown between the two fastest British qualifiers with 2016 champion Atherton rampaging down the course to post a sensational time of 4:51.443.
– Tahnée Seagrave came down last and gave it her best shot, but she could not bridge the growing gap at the splits with Atherton capturing her fifth win at the venue.
– Atherton, 30, said: "We have worked a lot on the suspension set-up this weekend. Track is so tough with big holes and, after that rain, it was absolutely written off. I knew I was going to have bring my AAA game to beat Tahnée. I went out and had fun on my bike."
– Seagrave, who kept the title race alive heading into the final round, explained: "I am not disappointed. I was getting stressed this morning. I was just knackered. I can't wait for La Bresse. It is a new track and I am mega excited. It is still not won or lost."
– In the men's race, Frenchman Loris Vergier posted a fast time on the back of his Vallnord win with Australian Troy Brosnan edging him out with a great ride next.
– Pierron could not better Brosnan after a bad qualifying crash, but Bruni produced a superb run which Britain's Danny Hart could not better last man down.
– 2017 world champion Bruni said: "It feels insanely good for everyone in the team. You just have to give everything you have, even when the legs are burning."
– Twenty-two-year-old Pierron, whose maiden title was fuelled by his win hat-trick in Fort William, Leogang and Val di Sole, revealed: "A dream come true. Lot of work through the winter and all the season. Not just me, but all the people around me. I am very happy. The crash was horrible. We did a good job with my physio."
Women's downhill result:
1. Rachel Atherton GBR 4:51.443
2. Tahnée Seagrave GBR +5.087s
3. Tracey Hannah AUS +20.280s
Women's overall downhill standings:
1. Rachel Atherton GBR 1226 points
2. Tahnée Seagrave GBR 1116
3. Tracey Hannah AUS 905
Men's downhill result:
1. Loïc Bruni FRA 4:12.713
2. Troy Brosnan AUS +0.321
3. Danny Hart GBR +1.323
Men's overall downhill standings:
1. Amaury Pierron FRA 1088 points
2. Loris Vergier FRA 781
3. Danny Hart GBR 776
Watch all the UCI MTB World Cup on Red Bull TV HERE.
Featured in this Post
Comments